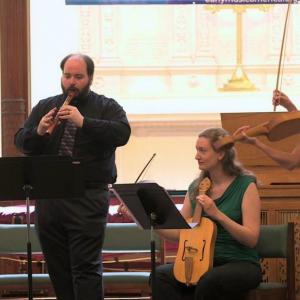 Saturday, April 24, 2021, 7:30 PM (ET)
PROGRAM
Program information coming soon!
About Early Music Singers
Early Music Singers was founded in 1978 by Beverly Simmons as part of Case Western Reserve University's nationally renowned Historical Performance Practice program. Since 2016, the group has been directed by Dr. Elena Mullins.
Repertoire ranges from medieval chant to Renaissance madrigals and masses and occasionally to baroque operas and oratorios. The group varies in size but is usually about 15-25 singers. The personnel includes undergraduate and graduate students (of voice, composition, musicology, mathematics, computer science, engineering, and business), as well as other individuals associated with CWRU, including a cardiologist and a clinical researcher. All of these members love making music in a small choral setting.
About Collegium Musicum
Collegium Musicum is an ensemble for CWRU and CIM students that specializes in performing late Medieval and Renaissance instrumental music. The Collegium rehearses twice a week and generally performs once or twice a semester; alone and with Early Music Singers. Projects include an Internet2 exchange with Collegium from Indiana University, as well as performance opportunities at the Cleveland Art Museum.
This ensemble performs on replicas of period instruments (shawms, sackbuts, recorders, renaissance flute, vielle, rebec, selected percussion, etc.) from the Kulas Collection; available for student use.