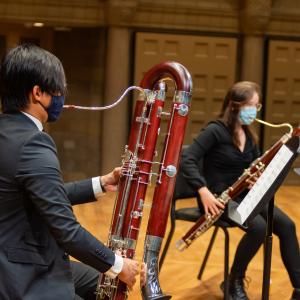 Thursday, November 11, 2021 7:30 PM
Location: Harkness Chapel
Program Information coming soon.
Free and open to the public. Paid parking available in the Ford Avenue garage, Severance Hall garage or at the meters along Bellflower Road and East Blvd.
Increasing COVID-19 cases within Northeast Ohio have prompted Case Western Reserve to resume its requirement that masks be worn indoors. In addition, only those who are fully vaccinated (two weeks past their final dose) should attend any campus event. Leaders continue to monitor pandemic developments and may need to adjust health protocols further as circumstances warrant. In-person is subject to change based on COVID-19 guidelines.
---
About Woodwind & Brass Chamber Music
Visit the Woodwind & Brass Chamber Music page
This ensemble is comprised of smaller chamber groups (woodwind and brass) coached by CIM faculty within the Joint Music Program; requires concurrent enrollment in either Symphony Orchestra or Symphonic Winds. CWRU students will have the opportunity to experience a rigorous combination of private coaching, master classes and performance while immersing themselves in great chamber music repertoire. The course covers rehearsal techniques, group dynamics, opportunities for independent rehearsal, as well as historical, social, and political overviews of the life and work of the composer(s).