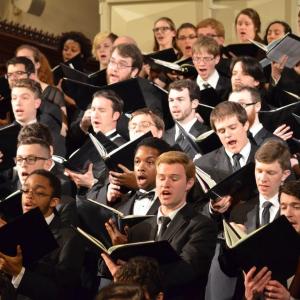 February 21, 2020 - 7:30 pm
Choral Showcase Invitational Concert
Location: Maltz Performing Arts Center, Silver Hall
Hear the Case Western Reserve University Concert Choir, University Chorale, Case Men's Glee Club and an area school in a joyous evening of singing. Each choir will showcase selections representing a wide variety of repertoire, and will culminate with the combined voices of over 100 singers.
This performance is part of the Maltz Performing Arts Center, Silver Hall Concert Series. These events are free, but registration is required. Reserve your tickets here. Parking passes may be purchased in advance for each performance for a nominal amount. Paid parking available upon arrival in the MPAC lot.
Case Concert Choir
View the Case Concert Choir page.
The Case Concert Choir is an auditioned mixed-voice ensemble with a focus on performing both a cappella and accompanied choral music from a variety of time periods and genres. In addition to shorter pieces, the ensemble also performs larger works of choral-orchestral repertoire through collaborations with the our University Circle neighbor institutions. Case Concert Choir was originally founded in 2004 as part of a University Presidential Initiative to support the Arts, Humanities, and Social Sciences. Case Concert Choir maintains a tradition of excellence in performance, strives to improve group and individual musicianship skills, and fosters community building.
University Chorale
View the University Chorale page.
University Chorale is a non-auditioned treble-voice ensemble open to any undergraduate or graduate student, faculty, staff or community member in the University who enjoys singing. The ensemble performs a wide variety of accompanied and a cappella repertoire written specifically for treble voices. Examples of treble voices include, but are not limited to: sopranos, mezzo-sopranos, altos, contraltos, and counter-tenors.
Case Men's Glee Club
View the Case Men's Glee Club page.
Case Men's Glee Club joined the Department of Music in fall 2018 as the lower voice choral ensemble open to all students enrolled in the University who enjoy singing. CMGC has the distinction of being the oldest continually operating student organization on our campus, dating back to 1897. With long-standing traditions of fellowship and excellence in singing , the ensemble performs a wide variety of accompanied and a cappella repertoire written specifically for tenor, baritone, and bass voices.