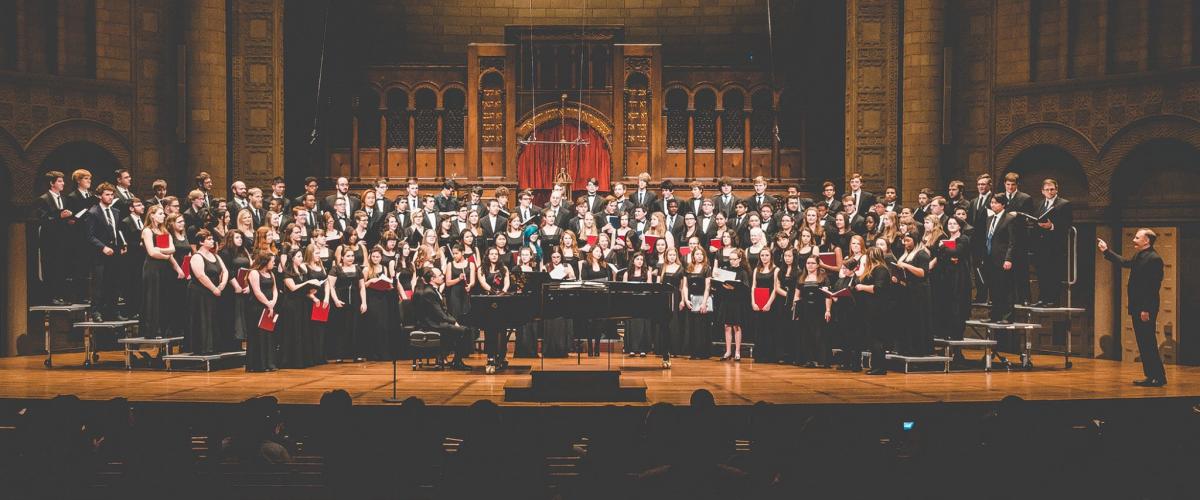 Director
Dr. Michael Peters
Rehearsal Day/Time
MoWe, 7:00-8:30 PM
Participation Information
About
The Case Concert Choir is an auditioned mixed-voice ensemble with a focus on performing both a cappella and accompanied choral music from a variety of time periods and genres. In addition to shorter pieces, the ensemble has also performed larger works of choral-orchestral repertoire through collaborations with our University Circle neighbor institutions (Mozart Requiem, 2011; Vaughan Williams Toward the Unknown Region, 2012; Haydn Schöpfungsmesse, 2013; Bernstein Chichester Psalms, 2014; Beethoven Meeresstille und glückliche Fahrt, Haydn Te Deum and Mendelssohn Magnificat, 2015; Duruflé Requiem and Quatre Motets, 2016; Handel Coronation Anthems, 2017; Rheinberger Mass and Rutter Mass of the Children, 2018). In the fall of 2018, Concert Choir collaborated with the Church of the Covenant Chancel Choir to celebrate the 100th anniversary of Armistice Day, presenting the world premiere of Solas by David Childs, with the composer conducting. 
Case Concert Choir was originally founded in 2004 as part of a University Presidential Initiative to support the Arts, Humanities, and Social Sciences. Case Concert Choir maintains a tradition of excellence in performance, strives to improve group and individual musicianship skills, and fosters community building. Dr. Michael Peters brings a wealth of knowledge to the podium as an experienced professional vocalist and conductor.
The ensemble is open to any undergraduate or graduate student at CWRU or CIM, as well as community members. Students may choose to participate in the ensemble for variable credit (0.00 or 1.00 unit). 
Attend an open rehearsal during the first two weeks of class, MW 7:00–8:30 p.m. via Zoom.
Listen: CWRU Alma Mater "Shine On, Case Western Reserve"
Instructional Format
for Choral Ensembles during the 2020-2021 Academic Year
Want to sing with a group of dynamic people? Join the Case Concert Choir and share in the excitement of making music together! Repertoire for the 2020–21 academic year will include music from a variety of historical and stylistic contexts. Due to the COVID-19 pandemic, Case Concert Choir will be operating primarily in a remote/virtual instructional mode.
Auditions
Auditions are held during the first week of the semester. Auditions for Fall 2020 have passed. Contact Dr. Peters (chorus@case.edu) for Spring 2021 semester participation or with any questions. 
Registration
Director: Michael Peters
MUEN 382-400: Case Concert Choir
MoWe 7:00 - 8:30 PM (TBA)
0-1 units
Blended: This section is for students meeting in-person (studying on campus) and during the regularly scheduled meeting pattern; contact hours are limited and supplemented with remote instruction.
MUEN 382-800: Case Concert Choir
MoWe 7:00 - 8:30 PM (WEB)
0-1 units
Remote-Synchronous: This section is for fully remote students; instructional contact hours are delivered in 100% remote format delivered synchronously. Students are expected to attend class meetings at designated days and times.