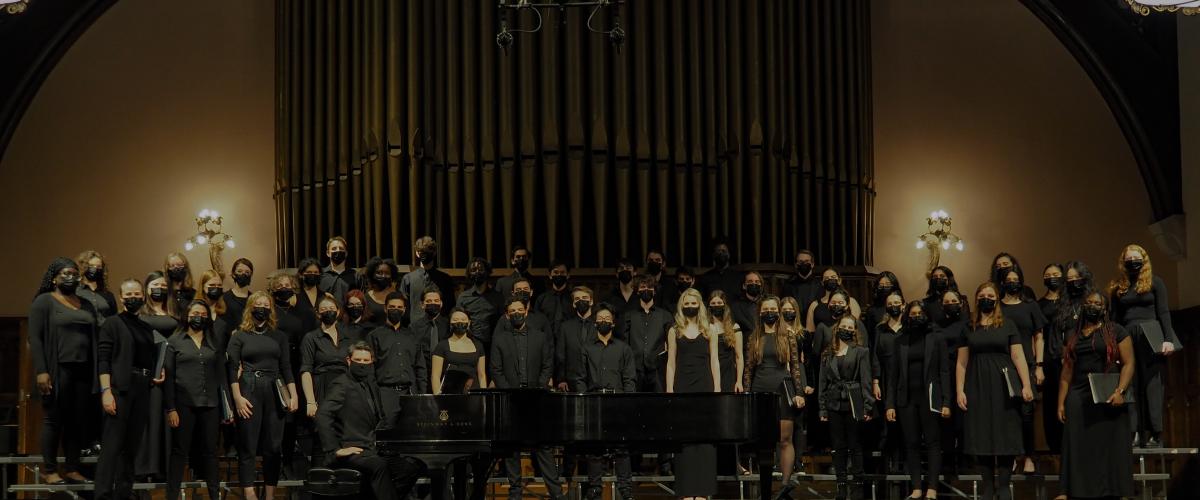 Director
Dr. Christopher Clark
Rehearsal Day/Time
MoWe, 7:00-8:30 PM
Rehearsal Location
Harkness Chapel
Participation Information
About
The Case Concert Choir is an auditioned mixed-voice ensemble with a focus on performing both a cappella and accompanied choral music from a variety of time periods and genres. In addition to shorter pieces, the ensemble has also performed larger works of choral-orchestral repertoire through collaborations with our University Circle neighbor institutions (Mozart Requiem, 2011; Vaughan Williams Toward the Unknown Region, 2012; Haydn Schöpfungsmesse, 2013; Bernstein Chichester Psalms, 2014; Beethoven Meeresstille und glückliche Fahrt, Haydn Te Deum and Mendelssohn Magnificat, 2015; Duruflé Requiem and Quatre Motets, 2016; Handel Coronation Anthems, 2017; Rheinberger Mass and Rutter Mass of the Children, 2018). In the fall of 2018, Concert Choir collaborated with the Church of the Covenant Chancel Choir to celebrate the 100th anniversary of Armistice Day, presenting the world premiere of Solas by David Childs, with the composer conducting. 
Director: Dr. Christopher Clark, Director of Choirs
Case Concert Choir was originally founded in 2004 as part of a University Presidential Initiative to support the Arts, Humanities, and Social Sciences. Case Concert Choir maintains a tradition of excellence in performance, strives to improve group and individual musicianship skills, and fosters community building. 
Listen: "Ain't No Grave Can Hold My Body Down" by Caldwell and Ivory 
---
Instructional Format 
Details pertaining to policies and operating procedures can be found on the participation information page.
Concert Choir is open to any undergraduate or graduate student at CWRU or CIM, as well as community members. Students may choose to participate in the ensemble for variable credit (0.00 or 1.00 units). 
Participation in our non-auditioned vocal groups is encouraged, University Chorale and Case Men's Glee Club. 
Fall 2022 Highlights
SEP 10: Full Day Choir Retreat
OCT 7: Homecoming Concert (Silver Hall Concert Series)
NOV 16: Combined Concert with Symphony Orchestra performing Brahms (Silver Hall Concert Series)
DEC 3: New Music Concert (Harkness Chapel)
---
Auditions
Anyone wishing to audition for the Fall 2022 semester:
Audition Materials
Visit this page for Concert Choir audition materials (or click the button below).
Audition Materials
In this Google Folder is the sheet music, audition instructions, part learning tracks, and the track you will be auditioning with. During the audition, students should be prepared to sight read, vocalize, and range test. Please arrive 5-minutes prior to your audition.
AUG 29: Open Rehearsal
All students can attend this open rehearsal to see what it would be like to be a member of CWRU Choirs.
AUG 30, 31 and SEP 1: Auditions
Visit this page for the audition sign-up sheet (or click the button below.)
Audition Sign-Up Sheet
First-year and new students should try to sign up for slots on TUES, AUG 30, in which up to 2 people will be signed up for a 15-minute slot. All returning students should sign up for WED (8/31) and THU (9/1) time slots and there may be up to 3 people signed up for each 15-minute time slot. If you can't make any of the open slots, please email Dr. Clark to schedule an audition time.
If you have any questions, please email Dr. Clark at clc161@case.edu.