Event Date:
October 6th 7:00 PM - October 8th 10:00 PM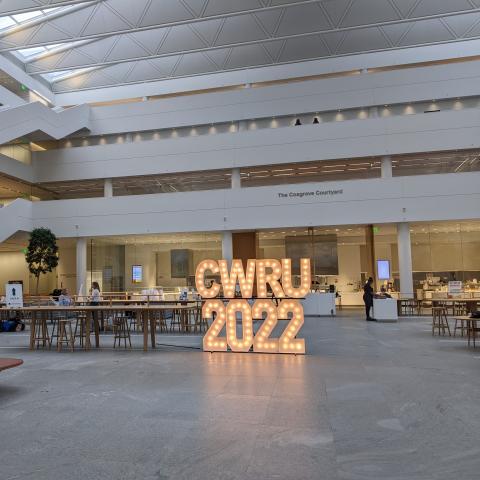 On the weekend of Oct. 6-8, the Case Western Reserve University School of Dental Medicine celebrated Homecoming and Reunion Weekend. This year's celebration was extra special as we are recognizing the 130th year anniversary of the School of Dental Medicine and we enjoyed seeing the more than 200 alumni in attendance over the weekend.
After a welcome from Dean Kenneth Chance, Vice Dean and Chair of Oral and Maxillofacial Surgery Dale Baur and Professor Russell Wang spoke at the inaugural Jack Love Endowed Fund for Prosthodontic Excellence Continuing Education Course. Dr. Baur discussed non-vascular grafts for jaw reconstruction while Dr. Wang shared about the rehabilitation of critical-sized oral-maxillofacial defects. 
During the evening of Friday, Oct. 7, volunteers led Homecoming attendees on tours through the Dental Clinic so that all returning to campus for the weekend could see the new facility.
On Saturday, Oct. 8, Scott Alperin (DEN '74) represented the dental school on the Health Sciences Education Collaboration panel which discussed the changing organization of healthcare as part of CWRU's focus on interprofessional practice. 
Later that day the Women in Dentistry panel shed light on important issues and was expertly moderated by Kari Cunningham (DEN '10, '12). Class of 2025 dental student Gabrielle Dean and Lisa Petti (DEN '83) poignantly shared their experiences in navigating the field of dentistry as women. 
During the Class Dinners, we recognized class years ending in two and seven with a special nod to the Class of 1972—this year was their 50th reunion year. A member of the Class of 1972 and married within weeks of his graduation, Emil Poporad (DEN '72) and his wife Kathy are also celebrating their 50th wedding anniversary this fall. 
Congratulations also goes to our Alumni Award recipients—Distinguished Alumnus: Dale Baur (DEN '80), Outstanding New Dentist: Adam Kennedy (DEN '14) and Special Recognition: Michael Uhrich (DEN '71). The SODM is proud to honor their outstanding accomplishments. 
Make sure to save the date for Homecoming and Reunion Weekend 2023 which will be held on Oct. 12-15 of next year.