Welcome to the Department of Oral and Maxillofacial Medicine and Diagnostic Sciences. We are a comprehensive unit encompassing all diagnostic disciplines of Dental Medicine. Our faculty direct several courses in our undergraduate and graduate curriculum that highlight the importance of a strong foundational knowledge of basic sciences to the practice of Dental Medicine. Our full-time members are board certified in their respective disciplines and offer comprehensive exposure to our students to routine patient screening and evaluation as well as diagnostic work-up of challenging cases. Our clinical services cover the School of Dental Medicine, the University Hospitals system (in collaboration with the Departments of Oral Surgery, Pediatric Dentistry, and the AEGD program) and local practicing dentists and physicians.
Mission: To provide education for the competent management of disorders of the oral and maxillofacial region to dental students and graduate dental practitioners. We also provide excellent interdisciplinary care to patients in search of relief of head and neck pain, oral mucosal complications, osseous disease, sleep breathing disorders, salivary complications, and effects of cancer treatment.
Vision: We will be a world-class center in oral and maxillofacial medicine, radiology, and pathology.  We will accomplish this through innovative education, research, and patient-centered care.
Interprofessional education and practice lie in the core of this mission, and we actively participate in several joint projects with the Schools of Nursing and Medicine. Our research involves orofacial pain, oral premalignant disorders, pediatric oral medicine, and interprofesional education outcomes. I appreciate your interest in our department and invite you to explore the additional pages that contain relevant information about who we are.
OMMDS Faculty Member Dr. Chmieliauskaite Achieves Board Certification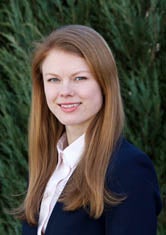 Dr. Milda Chmieliauskaite, Assistant Professor, achieved Board Certification in the specialty of Oral Medicine in April 2018. She successfully challenged the Board at the American Academy of Oral Medicine annual meeting in San Antonio. The American Board of Oral Medicine is a member of the American Board of Dental Specialties (ABDS), and is the only certifying entity for Oral and Maxillofacial Medicine in the United States. All full-time clinical faculty in the department are now Board-certified in at least one specialty.
For additional information, visit https://www.abomed.org/ or http://dentalspecialties.org/member-boards/
Student Research Work Presents at Michigan Dental Association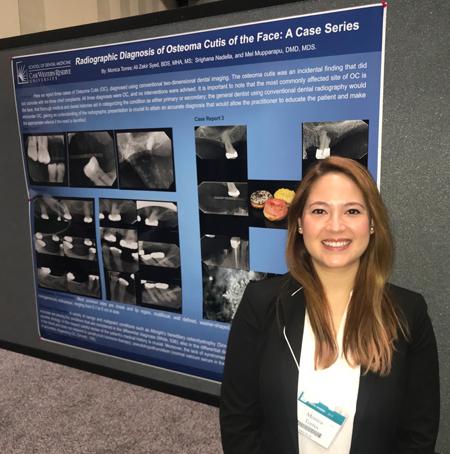 Third year DMD student Monica Torres presented her research at the Michigan Dental Association's Annual Session in Lansing, Michigan on April 27, 2018. Ms. Torres presented a poster on her project titled "Radiographic Diagnosis of Osteoma Cutis of the face: Case Series" that was guided under the mentorship of OMMDS faculty member Dr. Ali Syed. "Being able to recognize this condition in a patient of mine while working on this research project was an illuminating moment for me," said Torres. "It's a wonderful opportunity to be here and share that experience." Furthermore, Ms. Torres said working with Dr. Syed is a great privilege and honor; they continue to work together on other projects.
OMMDS Faculty Member Dr. Ivan Stojanov Awarded Research Funding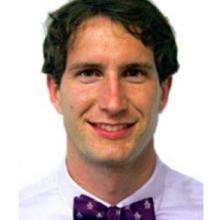 Ivan Stojanov, DMD, MMSc, Assistant Professor of Oral and Maxillofacial Pathology, has been awarded funding from the H.E.A.R.T.S. Foundation and the Chalmers Lyons Academy of Oral and Maxillofacial Surgery to investigate the mutational profile of keratocystic odontogenic tumors (odontogenic keratocysts) to see which, if any, genetic alterations may be present and potentially targeted in novel therapeutic approaches. Dr. Stojanov joined the School of Dental Medicine in 2016 after receiving his graduate training at Harvard University.
"This is a significant recognition of Dr. Stojanov's motivation to understand the mechanisms underlying oral and maxillofacial disease. He has been a valuable addition to our department and continues to make important contributions to our educational and service mission," stated Dr. Andres Pinto, Chair of the Department of Oral and Maxillofacial Medicine and Diagnostic Sciences.
Fellows Showcased at Prosthodontic Conference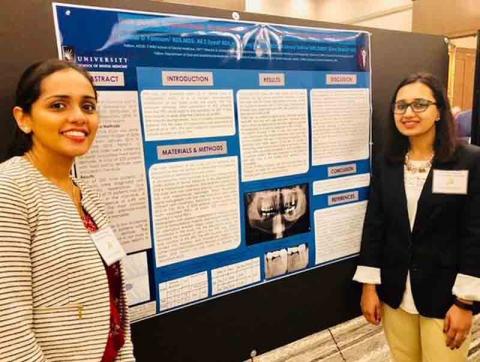 Drs. Savitha Yannam and Kiran Shahid, fellows from the AEGD department, presented their research work at the 53rd Annual Carl O Boucher Prosthodontic Conference, held at the Marriott and Residence Inn in Columbus, OH on April 13th, 2018. This event is dedicated to Dr Carl O. Boucher, who relentlessly worked for the betterment of the prosthodontics field.
This program exclusively dealt with complex prosthodontic work highlighting innovative and alternate methods to restoring implants and rehabilitation of children with syndromes such as ectodermal dysplasia.
The fellows presented a poster on their research project titled "Sub-pontic Hyperostosis: Prevalence and frequency in Northeast Ohio population" that was carried out under the mentorship of Dr. Ali Syed, assistant professor in the OMMDS department.
Kiran and Savitha said that it was a very pleasant and unique experience showcasing their research work at this meeting and they thoroughly enjoyed their presentation.
DMD Student Lauren Thai Wins Guenther M. Hans Award ‌‌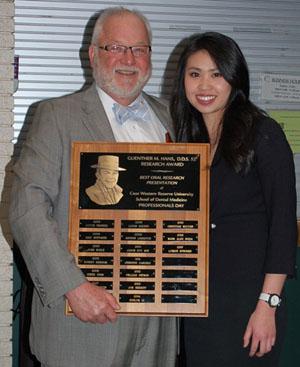 Lauren Thai, a second year DMD student, was awarded the Guenther M. Hans award for best presentation from the platform at the 38th Annual Professionals Day event. The award carries with it a certificate and a $500 cash award. The topic she presented was a retrospective cross-sectional study looking at the prevalence of crista galli using an advanced imaging cone beam computed tomography. This is the first study to look exclusively at the prevalence of crista galli using cone beam computed tomography in an orthodontic population group. Her research was conducted under the mentorship of OMMDS faculty member Dr. Ali Syed.
CWRU School of Dental Medicine prides itself in its annual Professionals Day event, which serves as a platform to showcase summer research conducted by both predoctoral and graduate students. Students present their research work as an oral presentation, poster presentation, or both, while also attending a lecture from a keynote speaker and having the opportunity to meet with various representatives from companies related to oral health care.
After winning, Lauren said, "I had the great honor of presenting my summer research presentation at Professionals Day. It was my first public speaking event to an audience of faculty, professors and peers. It was nerve-racking and exciting but mostly a great learning experience. I also was able to listen and learn about the other great research topics presented by my peers." 
She also expressed her gratitude towards her research mentor, Dr. Syed, and said, "Dr. Syed has been so generous of his time, knowledge, and patience. I'm grateful and appreciative of his continued support and guidance, especially in overcoming numerous obstacles faced during my research process... I would also like to thank Dr. Pinto for his encouragement and insightful comments. And finally, my sincere thanks goes to Dr. Demko for allowing me the opportunity to have this experience of doing summer research."