The Inamori Ethics Prize 10th Anniversary Essay Contest! 
The Inamori Ethics Prize celebrates and illustrates ethical leadership in all its forms, across a range of human endeavors. Select one of the following current or former recipients of the Inamori Ethics Prize and explain in your essay how and why their ethical leadership inspires you: 
2018: Dr. Farouk El-Baz (will be honored the Inamori Ethics Prize on September 13 and 14, 2018)
2017: Mrs. Marian Wright Edelman
2016: Professor Peter Eigen
2015: Professor Martha C. Nussbaum
2014: Dr. Denis Mukwege
2013: Mr. Yvon Choiunard
2012: Dr. David Suzuki
2011: Advocate Beatrice Mtetwa
2010: Mr. Stan Brock
2009: The Honorable Mary Robinson
2008: Dr. Francis S. Collins
Eligibility
            All graduate, professional, and undergraduate students at Case Western Reserve University registered for the Fall 2018 semester are eligible, including those who will be studying abroad. All high school students in the Northeast Ohio region registered for the 2018-2019 academic school year are eligible.
Prizes and Awards
            Each category of essays (high school, undergraduate, and graduate/professional) will have two awards available. The first place author will be awarded $500 and the second place author will be awarded $250. Winners will be notified by September 11, 2018. Winners will also be mentioned during the 2018 Inamori Ethics Prize Ceremony and Recipient Lecture with Dr. Farouk El-Baz on September 13, 2018 and on the Inamori Center webpage and newsletter.
Submission Guidelines
¨ Submissions must be no longer than 1000 total words.
¨ Submissions must be typed in 12-point font, double-spaced with 1" margins, and numbered pages.
¨ Title and reference pages are not included in the numbering. On the title page, please include your contact information, school attending, and program of study.
¨ Students are to submit their papers to Dr. Laura Mekhail by Tuesday September 4, 2018 via e-mail at laura.mekhail@case.edu. No late submissions will be accepted.
For more information, contact Dr. Laura Mekhail at laura.mekhail@case.edu or 216-368-0986.
---
Call for Papers - International Journal of Ethical Leadership (IJEL)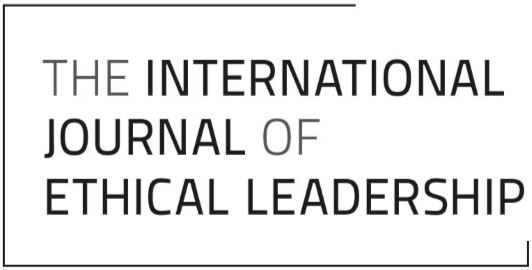 ‌
International Journal of Ethical Leadership (IJEL) is an academic journal that expands the interdisciplinary, international conversation on what ethical leadership requires, published by the University of Akron Press in partnership with the Inamori International Center for Ethics and Excellence at Case Western Reserve University.
IJEL is an annual journal that serves to advance critical discussions of the importance and key elements of ethical leadership.

The journal is broad in scope, accepting submissions from academic, professional, and lay perspectives. Previously published works will also be considered for submission, if the prior publisher grants permission. 
We are looking for articles (2-5,000 words) that have relevance to theoretical and practical approaches to ethical leadership from diverse perspectives.
Submissions must be received by March 1, 2019. Please send all inquiries and submissions to Dr. Laura Mekhail (laura.mekhail@case.edu).
---
Dr. French's Appearance on The Dead Prussian: A Podcast about War and Warfare
The host of The Dead Prussian podcast, Mick Cook, speaks with Dr. Shannon French about her current research, her book The Code of the Warrior, and a discussion of the "importance of ethical codes to warrior cultures and how it assists societies in dealing with the impact of war." To listen to the interview, click here. 
---
Dehumanizing the Enemy - The Intersection of Neuroethics and Military Ethics
French, Shannon and Jack, Anthony. "Dehumanizing the Enemy - The Intersection of Neuroethics and Military Ethics." Responsibilities to Protect: Perspective in Theory and Practice. Ed. David Whetham and Bradley J. Strawser. Leiden: Brill Nijhoff, 2015, 169-195. 
---
Moral Psychology Research Group with Dr. Tony Jack
Watch Dr. Tony Jack, Daryl Cameron, assistant professor of psychology and research associate in the Rock Ethics Institute, Walter Sinnott-Armstong from Duke University, and Joshua Greene from Harvard University discuss the Moral Brain as part of the Moral Psychology Research Group Conference 2017 at Penn State.