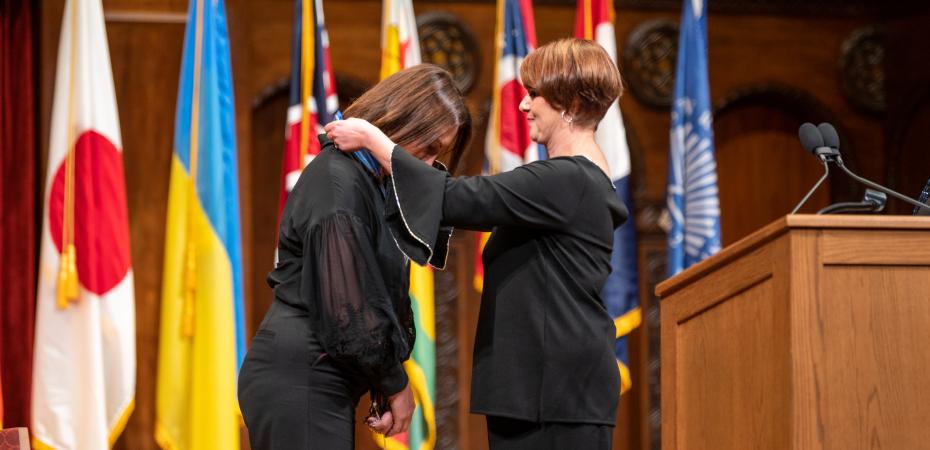 Myroslava Gongadze receiving the 2023 Inamori Ethics Prize from Joy K. Ward, interim provost and executive vice president.
As part of its mission to foster ethical leadership around the world, the Inamori International Center for Ethics and Excellence presents the Inamori Ethics Prize Ceremony annually to an individual who has demonstrated exemplary ethical leadership. The Inamori Ethics Prize honors outstanding international ethical leaders whose actions and influence have greatly improved the condition of humankind.
The Inamori Ethics Prize carries with it a monetary award, which is intended to support the recipient's ongoing work. Each year's recipient is conferred the prize at Case Western Reserve University, where they also deliver a public lecture about their work and the challenges that lie ahead. Events include but are not limited to an Academic Symposium and Ceremony/Recipient Lecture.
The prize was first awarded in 2008 to Francis S. Collins, a physician-geneticist and leader of the Human Genome Project. Most recently, Myroslava Gongadze, a journalist and free-press and human-rights advocate, received the 2023 Inamori Ethics Prize on September 21, 2023 on the Case Western Reserve campus.
In years in which the Inamori Ethics Prize is not awarded, the Inamori Center's Conversations on JUSTICE series is held.