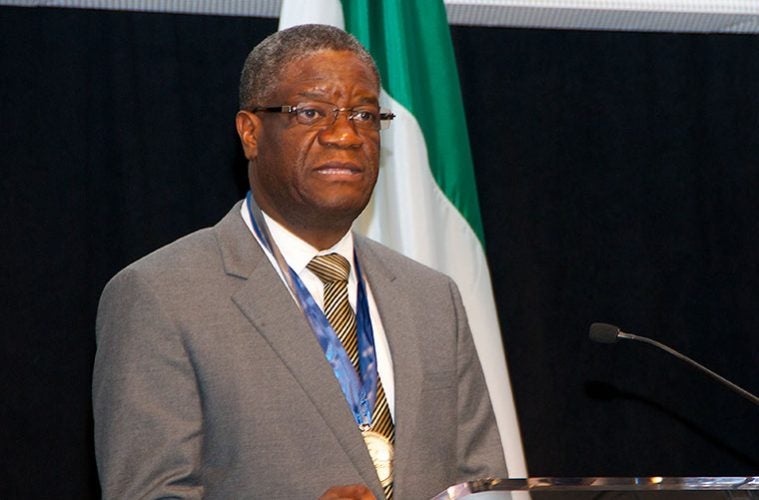 2014 Inamori Ethics Prize recipient Denis Mukwege earns Nobel Peace Prize
The Norwegian Nobel Committee today named Case Western Reserve University's 2014 Inamori Ethics Prize honoree Denis Mukwege one of two recipients of the 2018 Nobel Peace Prize.
Mukwege, a gynecological surgeon, has braved attacks on his life to treat and draw global attention to the brutal sexual violence that Congolese women suffer, in particular during wartime. The hospital he founded has cared for more than 40,000 survivors, and carried his message to audiences around the world.
"Denis Mukwege is the foremost, most unifying symbol, both nationally and internationally, of the struggle to end sexual violence in war and armed conflicts," the Nobel Peace Prize Committee said in its announcement. "… [T]he importance of Dr. Mukwege's enduring, dedicated and selfless efforts in this field cannot be overstated."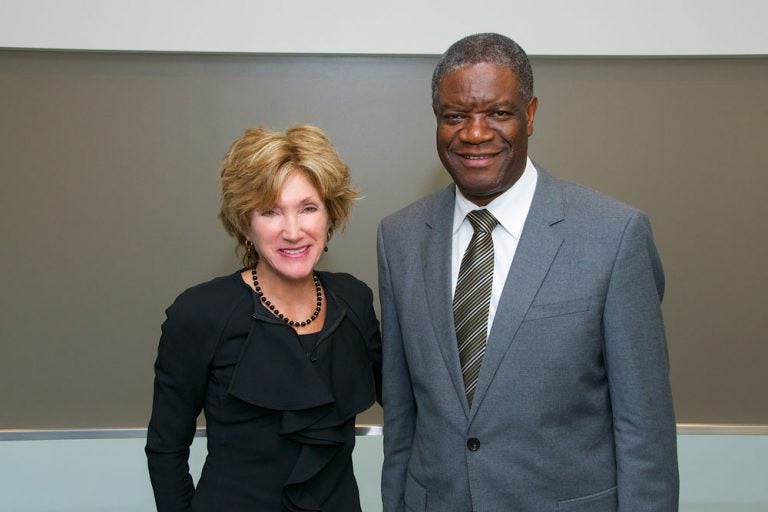 President Barbara R. Snyder and Denis Mukwege
The prize committee for the Inamori International Center for Ethics and Excellence selected Mukwege four years ago as part of its annual program to recognize "outstanding international ethical leaders whose actions and influence have greatly improved the condition of humankind."
"Dr. Mukwege is a man of great courage and integrity," Inamori Center Director Shannon E. French said at the time. "The problems he addresses evoke such feelings of horror that most people avoid even thinking of them. Dr. Mukwege has helped women all over the world by refusing to turn away and demanding instead that the world confront the issue of sexual violence."
Mukwege—who has twice before been a Nobel Peace Prize nominee—founded his hospital in 1999 to treat women who suffered sexual attacks, often as part of a strategy of war. He soon realized healing physical wounds was not enough, and added counseling to the services provided. In addition to calling on other nations to condemn the use of rape as a weapon in conflicts across the globe, he also has traveled to other countries to help colleagues found their own programs to help survivors.
Mukwege was completing the day's second surgery when the Nobel call came; in a follow-up telephone conversation, he shared how people in the room began to cry at the news of the honor.
"I can see in the faces of many women that they are happy to be recognized," he said in the call.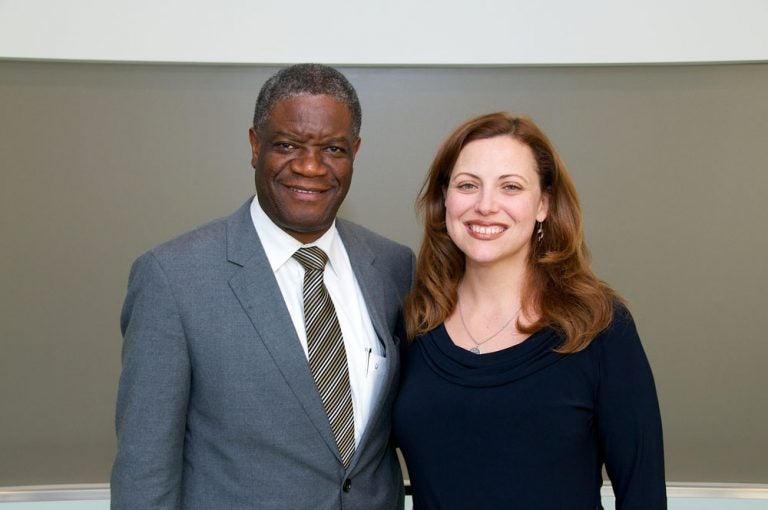 Shannon French, Inamori Professor of Ethics, and Denis Mukwege
Mukwege, 63, shares this year's award with 25-year-old Nadia Murad, a member of a religious minority in Iraq who was among thousands of girls and young women that the Islamic State kidnapped and forced to endure repeated rapes and threats of execution. After managing to escape, she has devoted her life to speaking out about the cruelty that she and so many others endured.
In honoring the two individuals, the Nobel committee noted that it had been a decade since the United Nations had passed a resolution that noted that "the use of sexual violence as a weapon of war and armed conflict constitutes both a war crime and a threat to international peace and security.
"A more peaceful world can only be achieved," the committee continued, "if women and their fundamental rights and security are recognised and protected in war." 
To read Mukwege's full biography, visit the Past Recipients section on the Inamori Ethics Prize site.