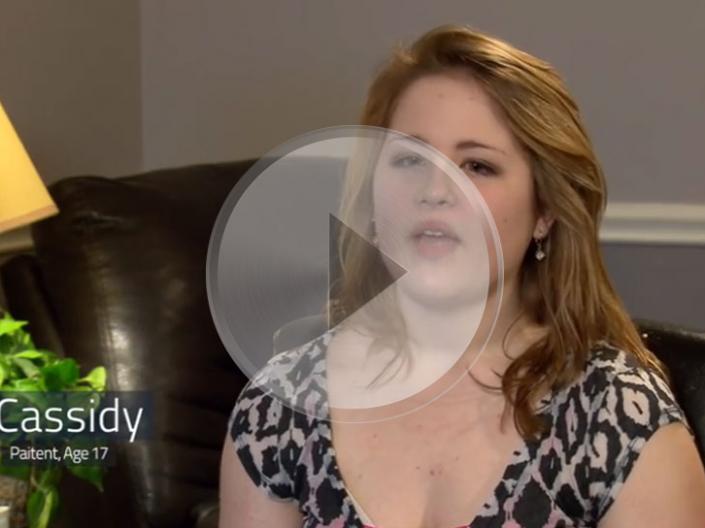 Patient Story: Cassidy
CWRU School of Dental Medicine Cleft Lip and Palate Treatment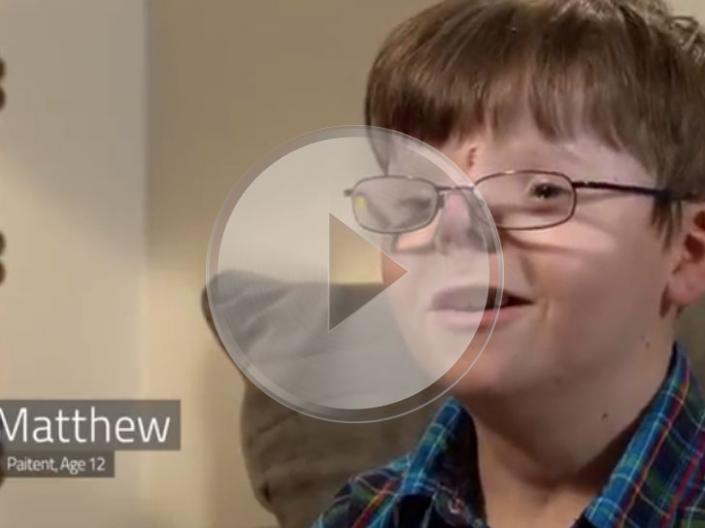 Patient Story: Matthew
CWRU School of Dental Medicine Cranio-Frontonasal Dysplasia and Craniofacial Anomalies Treatment
Lexi
Born with a cleft palate, teenaged Lexi has been a lifelong patient at the craniofacial clinic. Checked every year since her birth, she still wears expanders under the care of Dr. Hans and Dr. Valiathan and gives an enthusiastic "thumbs up" when asked about her experience here. Although another surgery is in her future, she takes it in stride in keeping with her upbeat personality that always brings smiles to the clinic staff.
"These orthodontists are top-notch—and so gentle," notes her mother, Betty.
---
Jordan
By the time Jordan was three months old, she had already undergone five surgeries for her cleft palate. Fast forward to a creative home-schooled teenager who loves reading and music—she writes plays (as well as songs) that she performs—and add dancing to her list of talents. Her photo is the last taken without her braces that she recently acquired—she anticipated them with eagerness because she know her orthodontic treatment is an important step in her journey.
"Our experience at the dental school has been great—they are very accommodating and easy to work with. We are actually friends with the doctors here," adds her mother, Gail.
---
Fletcher
When Fletcher was born with a cleft palate, it was difficult not having any family here to help (relatives are in Canada and San Diego). However, his mother Alicia explains that they were able to rely on the "extremely helpful staff that was also very patient." After four lip surgeries (the last big one was during his kindergarten year), eight-year-old Fletcher is not only articulate and well-informed, but a quick thinker who keeps you on your toes.
"We have been a part of the craniofacial orthodontic clinic for about a year now and we are grateful to have such continued support," comments Alicia.
---
Logan
A midget-league football player and wrestler, seventh-grader Logan comes to the craniofacial orthodontic clinic every six weeks for an adjustment to his braces. During the summer, it means taking time out from swimming (one of his favorite activities) in his grandparent's pond that is complete with two docks. Born with a large cleft, he is accustomed to coming to University Circle for his treatment.
"I refer everyone to this team. Not only do I have the utmost confidence in them, but they communicate very well," shares his mother, Siobhon.
---
Dante
With abundant positive energy that the camera easily captures, high school senior Dante is a young man who is outgoing, imaginative, and a self-described people person. A patient at the craniofacial center since his early teen years, he appreciates that everything is explained to him in advance and that his team "talks him through it." Dante was born with Stickler Syndrome, an inherited tissue disorder that can cause serious vision, hearing, and joint problems. He was also born with Pierre Robin Sequence (PRS), a craniofacial condition that is neither a syndrome nor disease in its own right, but often occurs as part of a syndrome. Resulting from a series of events during a baby's early development in the womb, PRS is a cluster of birth defects that may include a cleft palate, a small jaw, and a tongue that falls back toward the throat. Approximately 40 percent of patients with PRS also have Stickler Syndrome.
Because children with this combination may have a variety of health concerns, treatment planning requires an experienced multidisciplinary team composed of health care professionals from many different specialties including oral and maxillofacial surgeons, craniofacial surgeons, ear/nose/throat specialists, ophthalmologists, audiologists, rheumatologists, and orthodontists. In addition to the repair of his cleft palate when he was younger, Dante currently wears braces as part of his corrective dentistry plan to compensate for the syndrome-related small jaw. (I do not know if he had corrective jaw surgery). He thinks his braces are "super cool" and allows that his friends have been very supportive. Involved in student council, Dante confesses that despite his outgoing nature that he still gets nervous when talking in front of a group.
"There are so many things I am interested in doing. I would like to be a great cook and study the culinary arts, learn photography, and write screen plays," replies Dante when asked what is next for him.
---
Shalimar
Born with Treacher Collins Syndrome, a genetic condition occurring in 1 of 10,000 infants, Shalimar lacked external ears at birth and is almost completely deaf. Approximately 40% of individuals with the syndrome are hearing impaired. The combination of hearing aids, lip reading, and sign language allows her to communicate very well—and her prosthetic ears are remarkably lifelike. Always striving, Shalimar formed a school sign language club in high school. In addition to ear deformities, other characteristics of the syndrome include underdeveloped cheek and jaw bones, downward slanting eyes, and often a cleft palate. Shalimar, like others with craniofacial anomalies, has required a multidisciplinary medical team from birth into adulthood—an oral surgeon, pediatric otolaryngologist, and now in her fifth year of wearing braces, an orthodontist.
Because the abnormal growth patterns continue throughout the growing years, treatment (including reconstructive and aesthetic surgeries) is done in stages at each new level of maturity. Our team of specialists created a customized treatment plan for Shalimar with interventions timed to match her growth. "The team here has been wonderful and all of Shalimar's innovative surgeries have changed her life," comments her grandmother Valerie who has been her stalwart supporter. That Shalimar is most interested in studying neo-natal nursing really comes as no surprise.