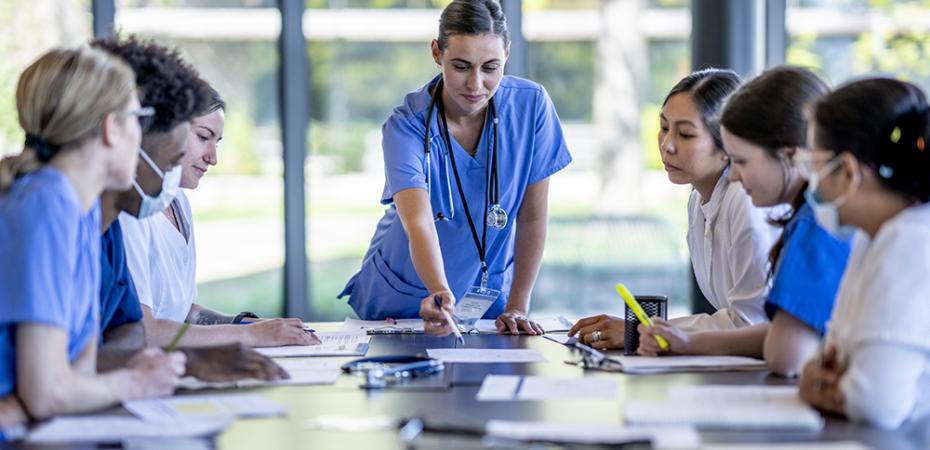 A Master's Degree in Nurse Leadership is focused in unit level administration and management. Prospective students include both current and aspiring nurse leaders who are leading at or who expect to lead at the unit level (i.e. nurse managers, assistant nurse managers). 
Participants will develop the skill set to meet the aims of their healthcare institution, as well as the needs of their patient population, through the application of clinically based leadership, management, and quality  assessment/improvement practices.
The Nurse Leadership major requires 31 credit hours of coursework and 300 hours of leadership-focused clinical experience. Students must have at least a year of nursing experience prior to applying to the program. 
The coursework can be completed in 24 months. All classes are conducted remotely in a synchronous format except for one immersion class which will be held in-person at the Frances Payne Bolton School of Nursing in Cleveland, Ohio. Additionally, students take two DNP level leadership courses that will count towards a future DNP degree in executive leadership offered at FPB.
Download the Nurse Leadership program brochure
Fall 1
| | | |
| --- | --- | --- |
| Course # | Course Title | Credits |
| NURS 444C | Health Policy, Legislation and Legal Issues in Advanced Practice | 1 |
| NURS 451 | Leadership for Quality Healthcare within Organizations and Systems | 3 |
| NURS 405 | Inquiry I—Theoretical Foundations | 2 |
| Total |   | 6 |
Spring 1
| | | |
| --- | --- | --- |
| Course # | Course Title | Credits |
| NURS 434 | Population Health Management for Nurse Leaders | 3 |
| NURS 433 | Management of Clinical Operations for Nurse Leaders | 3 |
| NUND 510 | Application of Health Information Technology and Systems | 1 |
| Total |   | 7 |
Summer 1
| | | |
| --- | --- | --- |
| Course # | Course Title | Credits |
| NUND 506 | Leadership in Organizations and Systems | 3 |
| NURS 436 | Practicum 1 for Nurse Leaders | 2 |
| Total |   | 5 |
Fall 2
| | | |
| --- | --- | --- |
| Course # | Course Title | Credits |
| NURS 425 | Inquiry II—Research Process | 3 |
| NURS 432 | Organizations and Systems in the Management of Health and Illness Across the Care Continuum | 3 |
| NURS 437 | Practicum 2 for Nurse Leaders | 2 |
| Total |   | 8 |
Spring 2
| | | |
| --- | --- | --- |
| Course # | Course Title | Credits |
| NURS 444A | Ethical Issues in Advanced Practice Nursing | 1 |
| NURS 502 | Inquiry III—Evidence-based Practice | 2 |
| NURS 438 | Leadership Evidence-based Practice Practicum | 1 |
| NURS 435 | Leading Innovation, Change and Intrapreneurship | 1 |
| Total |   | 5 |
Program Total
| | |
| --- | --- |
| 31 Credits | 300 Practice Hours |