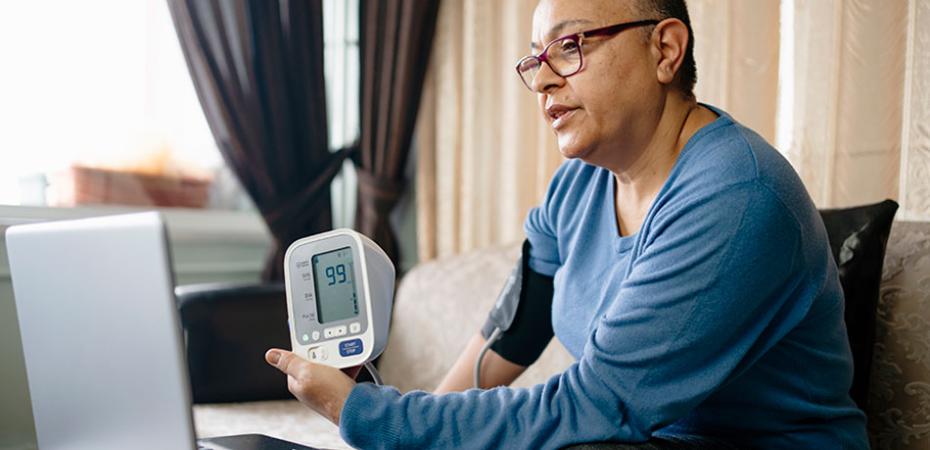 Optimizing Technology to Improve Medication Adherence and Blood Pressure
The prevalence of hypertension and cardiovascular related consequences remain high in African Americans (AA), despite treatment advances and evidence-based practice guidelines that have shown positive results in blood pressure control. Mobile Health (mHealth) technologies are promising tools to facilitate behavioral change and sustain self-managing chronic diseases; however, there is a lack of evidence of mHealth long-term impact on clinically relevant health outcomes and data specific to AA older adults. 
Carolyn Harmon Still, PhD, MSM, ARNP, AGPCNP-BC, CCRP, FAAN and an interdisciplinary team of researchers will test a technology-based intervention approach, Optimizing Technology to Improve Medication Adherence and BP Control (OPTIMA-BP), focused specifically on AA older adults with hypertension to improve hypertension self-management, medication adherence, and blood pressure control.
Support
This study is funded by that National Institutes of Health, National Institute of Nursing Research.
Meet the Research Team
Principal Investigator
Carolyn Harmon Still, PhD, MSM, ARNP, AGPCNP-BC, CCRP, FAAN
Assistant Professor, Frances Payne Bolton School of Nursing
Dr. Carolyn Still is an Assistant Professor at the Frances Payne Bolton School of Nursing at Case Western Reserve University (CWRU). She received her BSN and MSN from Florida A&M University and completed her PhD and Business degrees at CWRU. Dr. Still has conducted research over the last 15 years and her research expertise includes hypertension clinical trials in older populations, psychosocial assessment and management of chronic diseases in older adults, and recruitment and retention of minorities in clinical trials. She is board certified, as an Adult /Geriatric Primary Care Nurse Practitioner. Dr. Still actively serves in various leadership roles several local, regional, and national nursing committees.
Co-Investigators
Jackson T Wright, Jr, MD, PhD, FACP, FASH, FAHA
Emeritus Professor of Medicine and Emeritus, jxw20@case.edu
Director of the William T Dahms MD Clinical Research Unit at University Hospitals and the Clinical Hypertension Program in the Division of Nephrology and Hypertension.  He received both his MD and PhD (Pharmacology) from the University of Pittsburgh and Internal Medicine residency at the University of Michigan.  He has published over 300 articles, book chapters, and abstracts and has served on many national and international advisory panels.  Dr. Wright has had a major or leadership role in nearly all of the major clinical outcome trials conducted in Black populations over the past 2½ decades and was an author on the three latest US national hypertension guidelines.
---
Carla M. Harwell, MD
Carla.Harwell@uhhospitals.org
Dr. Carla M. Harwell is the Medical Director of University Hospitals Otis Moss Jr. Community and Health Center, located in the Fairfax community, where she provides primary care services. She has a special interest in eliminating health care disparities that exist in the African American community. Dr. Harwell received a Bachelor of Sciences in Biology and a Bachelor of Arts in Psychology from the University of Cincinnati. She then went on to attend medical school at that same institution earning her MD degree. A Cleveland native, Dr. Harwell returned to her hometown for internship and residency training at University Hospitals Cleveland Medical Center.
---
Kenneth A. Loparo, PhD
Arthur L. Parker Professor, Department of Electrical, Computer, and Systems Engineering, Case School of Engineering, kal4@case.edu
Dr. Kenneth Loparo's research interests include stability and control of nonlinear and stochastic systems with applications to large-scale electricity systems including generation and transmission and distribution; nonlinear filtering with applications to monitoring, fault detection, diagnosis, prognosis and reconfigurable control; information theory aspects of stochastic and quantized systems with applications to adaptive and dual control and the design of distributed autonomous control systems; the development of advanced signal processing and data analytics for monitoring and tracking of physiological behavior in health and disease.
---
Abdus Sattar, PhD
Professor, Department of Population and Quantitative Health Sciences, CWRU School of Medicine, sattar@case.edu
Dr. Sattar is a Professor and Biostatistician in the Department of Population and Quantitative Health Sciences at Case Western Reserve University School of Medicine. His academic background is in mathematics (M.S.), statistics (M.S.), and biostatistics (Ph.D.), and he has extensive experience in team science research with biomedical and clinical sciences researchers. As a biostatistician in CWRU, he is interested in clinical trials and interventional studies. Dr. Sattar has interests in developing and publishing new biostatistical methods arising from his own collaborative research. He has been focusing on longitudinal studies with complex issues which may lead to joint analyses of multiple outcomes.
---
Cheryl M. Killion, PhD, RN, FAAN
Associate Professor, Frances Payne Bolton School of Nursing, cmk61@case.edu
 Dr. Cheryl M. Killion, a registered nurse, and anthropologist has integrated her role as a social scientist and clinician to champion for social justice and equitable health care for all.  She has served on national advisory committees focusing on minority health. With expertise in qualitative research, she has conducted population-focused research in urban settings in the United States, Belize, and Haiti. Dr. Killion is an associate professor in the Frances Payne Bolton School of Nursing.
---
Ronald L. Hickman Jr., PhD, RN, ACNP-BC
Associate Dean for Research, Ruth M. Anderson Endowed Professor, Frances Payne Bolton School of Nursing, rlh4@case.edu
Dr. Hickman is nationally known for his pioneering work focused on technology-based solutions to improve chronic disease self-management and end-of-life care. His innovative work integrates knowledge from several disciplinary domains to develop technologies and understand biobehavioral mechanisms that influence how patients and their families make decisions and manage their health or an acute illness.
Study Team
Suebsarn Ruksakulpiwat, PhD(c)
Research Assistant, sxr876@case.edu
Suebsarn Ruksakulpiwat is currently a PhD student at the Frances Payne Bolton School of Nursing at Case Western Reserve University. His research interests include self-management, health technology, medication beliefs, perception of illness, and medication adherence in patients with chronic disease, particularly patients with stroke.
---
Kieori Gethers
Research Assistant, kxg428@case.edu 
Kieori Gethers is a Research Assistant within the Frances Payne Bolton School of Nursing, where she is working on the Hypertension study with Dr. Carolyn H. Still. Prior to this, Kieori graduated from Howard University, earning her Bachelors' of Science in Psychology with a minor in Human Development. She is passionate about psychology, but also desires to help marginalized communities in both her professional and personal life. As a double minority, she understands the importance of inclusivity and aims to have a hand in advocacy for different groups around the country.