Scholarship and Innovation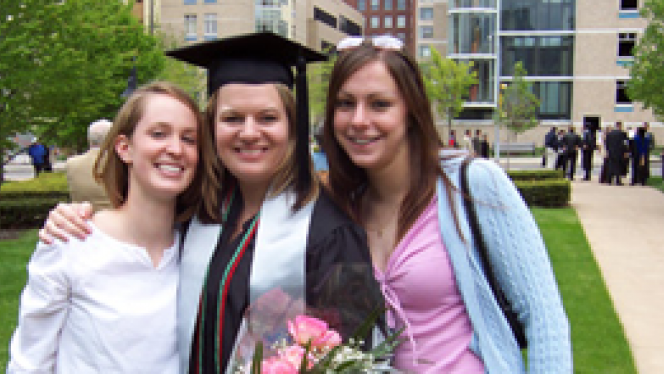 Fall convocation opens each academic year with a formal celebration of scholarship and innovation. What better time to name Distinguished University Professors.
James M. Anderson, MD
Often, collaboration helps turn a great idea into a life-changing invention, or a minor project into a major breakthrough. But for James M. Anderson, collaboration is what's defined his career.
As a professor of pathology, macromolecular science and biomedical engineering, Anderson's 44 years at Case Western Reserve University have included research, teaching and service that bridges medicine and engineering. In addition, he has been instrumental in developing cooperative efforts between the School of Medicine and Case School of Engineering, as well as among other universities.
Anderson first became involved in multidisciplinary projects shortly after he arrived on campus in 1967 as a postdoctoral investigator in chemistry. Two years later, he began conducting biomedical polymer research at Case School of Engineering and developed a course titled Polymers in Medicine for graduate students.
Read more about James Anderson. 
---
Eric Baer, PhD
Professor Eric Baer arrived in Cleveland in the fall of 1962—nearly a half century ago—and within five years launched the nation's first department of macromolecular science. After chairing that department for 16 years, he spent the next five as dean of what was then known as the Case Institute of Technology. Today he directs the Center for Layered Polymeric Systems, a National Science Foundation Science & Technology Center. Baer's career includes more than 600 journal articles, more than six dozen graduated doctoral students and multiple awards from national and international professional societies.
---
Mary D. Barkley, PhD
Barkley, the M. Roger Clapp University Professor of Arts and Sciences, is a leading researcher in the field of biophysical chemistry. She has developed and applied innovative approaches to investigate protein and DNA structure and interactions. Her work has provided invaluable data for computer simulations of protein properties.  Barkley has published more than 60 scientific papers, several of which shed light on the process by which anti-AIDS drugs inhibit reverse transcriptase, a viral enzyme that catalyzes the first step in the replication of HIV.
---
Timothy Beal, PhD
Beal is a "model humanist," according to Joy K. Ward, dean of the College of Arts and Sciences. As an international expert in Biblical literature, religion in America, critical theory, and religion in culture, Beal has 17 published monographs, 43 peer-reviewed journal articles and book chapters, and nine single-authored books. He has been awarded 17 prestigious and competitive national grants and fellowships on a scale rarely encountered in the humanities. 
---
Cynthia M. Beall, PhD
Cynthia M. Beall, PhD, S. Idell Pyle Professor of Anthropology, is internationally recognized for her work on the biology of people who live at high altitudes.
She joined the Department of Anthropology at Case Western Reserve University in 1976 and immediately began a series of pioneering field studies into the ways in which Andean, Tibetan and East African highlanders respond to and thrive in their stressful native environments. She was the first to thoroughly document the use of different biological pathways by Andean and Tibetan highlanders. 
Read more about Cynthia Beall. 
---
Nathan A. Berger, MD
Professor Nathan A. Berger came to Case Western Reserve University in 1983 and within four years the oncology program he developed had secured the prestigious National Cancer Institute Cancer Center designation. In 1995 he became the medical school's acting dean, and a year later received the permanent position. His seven-year term witnessed dramatic growth in federal grant funding, significant capital projects and an extremely positive review from the national accrediting body for schools of medicine. Today Berger continues an active research portfolio and also leads the Scientific Enrichment and Opportunity Program that provides Cleveland high school students rich summer research experiences to encourage them to consider careers in the health sciences.
---
Robert Bonomo, M.D.
Antimicrobial resistance (AMR), which develops when harmful bacteria and other damaging microorganisms become resistant to the antibiotics that once killed them, threatens to undo many of the powerful health gains achieved by these "life-saving" drugs. The problem arises from overuse and misuse of antibiotics in humans and livestock and is recognized by the World Health Organization as a chief challenge to global health.

According to the United States Centers for Disease Control and Prevention (CDC), at least of two million people nationwide become infected with antibiotic-resistant bacteria every year and more than 25,000 succumb to these infections. In addition to the biomedical havoc that it wreaks, AMR adds as much as $20 billion per year in direct health care costs nationally, according to the CDC.
Read more about Robert Bonomo.
---
Walter F. Boron, MD, PhD
Dr. Boron is Distinguished University Professor and Myers/ Scarpa Professor and Chair of the Physiology & Biophysics Department at CWRU. He earned his AB in chemistry at Saint Louis University, and his MD and PhD (Physiology & Biophysics) at Washington University in St. Louis. Boron joined Yale University as a postdoctoral fellow with Emile Boulpaep in 1978, and remained there for the next 29 years, serving three terms as Chairman of the Department of Cellular & Molecular Physiology. In 2007, he returned to his hometown of Cleveland. Boron is former President of the American Physiological Society (APS) and former Secretary-General of the International Union of Physiological Sciences (IUPS), as well as former editor-in-chief of two journals, Physiological Reviews and Physiology.
Read More about Walter F. Boron.
---
Richard E. Boyatzis, PhD
Richard E. Boyatzis, PhD, H.R. Horvitz Professor of Family Business, has been at Case Western Reserve University for more than 28 years, but his distinguished career includes more than 47 years of research that has been published in multiple fields, including medicine, psychology, substance abuse, health, education, leadership, emotional intelligence and a variety of domains within management and organizational behavior
With appointments in the departments of Organizational Behavior, Psychology and Cognitive Science, Boyatzis has authored more than 175 articles and books. His books have been published in 28 languages, and his work Primal Leadership earned a spot on non-fiction best sellers lists in the United States, Canada, Japan and Spain.

Read more about Richard Boyatzis.
---
Robert W. Brown, PhD
Professor Robert W. Brown's passion for educating students has created a legacy of achievement and innovation. He is quick to note that nearly all of his hundreds of publications and patents involve young people as co-authors; in addition, dozens of his college advisees have gone on to win recognitions such as National Science Foundation and Goldwater fellowships. Brown himself has won the university's Carl F. Wittke Award for Excellence in Undergraduate Teaching and its John S. Diekhoff Award for Graduate Teaching and Mentoring. In addition, he also received the American Association of Physics Teachers' top award for undergraduate teaching, along with three other national teaching honors for his innovations in education. Brown is a Fellow of the American Physical Society and of the American Association of Physics Teachers and co-author with some of his students of a 944-page 2nd-edition textbook on Magnetic Resonance Imaging. The co-founding with a former student of Quality Electrodynamics LLC, which Forbes has designated one of America's most promising companies, is a culmination of a long career in industrial design, applied research, and entrepreneurial physics education. Brown has played a pivotal role in the emergence of four other new companies, three of which also have had former students in leadership positions, and in the creation of a master's Program in Physics Entrepreneurship at CWRU. Throughout his career, Brown and his collaborators have also continued research in elementary particle physics; this work has led to past and ongoing major experiments at Fermi National Accelerator Laboratory and the CERN Large Hadron Collider. 
---
Mark R. Chance, PhD
Dr. Chance is an internationally recognized expert in proteomics and structural biology with over 280 publications who has built multiple internationally recognized science and training programs over a 25-year career in academia. He is also the Director of the Center for Proteomics and Bioinformatics (CPB) at Case Western Reserve University (CWRU). The faculty, staff and users of the CPB, including its structural biology facilities at Brookhaven National Laboratories, currently publish 100 papers per year using technologies ranging from next generation sequencing to mass spectrometry to crystallography and in fields from cancer to infectious disease to vision research. The CPB's programs have attracted over $150 million in funding since 2005. He has been a leader in clinical and translational research within the Center for Translational Science Collaborative and the Case Comprehensive Cancer Center. He has led an NIH-funded Molecular Biophysics PhD program and recently established a Systems Biology and Bioinformatics graduate program at CWRU in 2011.
---
David L. Cooperrider, PhD
David L. Cooperrider, PhD, is a University Distinguished Professor and holds the Fairmount Santrol - David L. Cooperrider Professorship in Appreciative Inquiry at the Weatherhead School of Management, Case Western Reserve University, where he is the faculty founder of the Fowler Center for Business as an Agent of World Benefit. David is also the Honorary Chairman of Champlain College's David L. Cooperrider Center for Appreciative Inquiry at the Robert P. Stiller School of Business. 
David is best known for his original theoretical articulation of "AI" or Appreciative Inquiry with his mentor Suresh Srivastva. Today AI's approach to strengths-inspired, instead of problematizing change, is being practiced everywhere: the corporate world, the world of public service, of economics, of education, of faith, of philanthropy, and social science scholarship—it is affecting them all. Jane Nelson, at Harvard's Kennedy School of Leadership recently wrote, "David Cooperrider is one of the outstanding scholar-practitioners of our generation."
Read more about David Cooperrider. 
---
Claudia Coulton, PhD
Claudia Coulton conducts research with two goals: to identify issues in urban areas and to solve them. Time and again, her scholarly findings have prompted concrete leadership changes—which in turn have improved the lives of the people she studies.
For example, when the Center for Urban Poverty and Community Development, which she directs, released a report showing Cleveland's inner-city residents couldn't get to available jobs in the outer-ring suburbs via public transportation, the Greater Cleveland Regional Transit Authority adjusted its routes. And when her research showed the major role disadvantaged neighborhoods play in people's lives—leading to systemic issues such as lack of access to education, jobs and food as well as income inequality and health disparities—she founded the National Neighborhood Indicators Partnership, a 35-city collaboration that develops and supports the use of neighborhood research in local policymaking and community building. 
Read more about Claudia Coulton.
---
Barbara Daly, PhD
Barbara Daly is more than a nurse educator; she's a nurse philosopher. Her life's work has focused on remedying the moral and ethical issues doctors and nurses face in treating the sickest of the hospital's sick - thecritically, chronically ill and cancer patients.
The average patient in a large urban hospital feels like a stranger in a strange land, Daly said, raising questions about what's important for both health care workers focused on treating the disease and patients who are more than an ailing body. The real challenge, she said, is to give patients the most advanced technical care in a manner that does not depersonalize or dehumanize them among the medicines and machines.
---
Pamela B. Davis, MD, PhD
Transformative—that describes Pamela Davis' impact as a leader, educator, researcher and mentor, not only at Case Western Reserve University School of Medicine but across the university and Northeast Ohio. Dr. Davis is the Arline H. and Curtis F. Garvin Research Professor and former dean of the School of Medicine (2007-20).  
During her tenure as the dean of the School of Medicine, the school ranked 11th nationally for producing successful academic researchers, 20th in National Institutes of Health (NIH) funding, and was a consistent top-25 national research institution according to U.S. News & World Report. 
---
Ross Duffin, PhD
Ross W. Duffin was born in London, Ontario, and attended the University of Western Ontario there. He received his master's and doctoral degrees from Stanford University where he specialized in the performance practice of early music – basically the manner in which music from earlier centuries was performed. He came to Case Western Reserve in 1978 to direct the nationally recognized early music program. Named to the Fynette H. Kulas Chair in 1986, he served as chair of the Music Department from 1993 through 1998, 2007 through 2008, and 2011 to 2013. 
---
Dominique Durand, PhD
As a faculty member at CWRU since 1983, Dominique M. Durand has endeavoured to integrate biomedical engineering with neuroscience. He is a pioneer and leader in the field of neural engineering which brings to bear engineering tools to solve problems in neuroscience. He received an engineering degree from Ecole Nationale Superieure of Toulouse, France, a MSc degree in Biomedical Engineering from Case Reserve University in Cleveland OH., and a Ph.D. in Electrical Engineering from the University of Toronto, in Canada. He received a Young Investigator Presidential Award as well as the Diekhoff and Wittke awards for graduate and undergraduate teaching. He is an IEEE Fellow, AAAS Fellow, AIMBE Fellow of International Institute of Medical and Biological Engineering. He serves on many editorial boards of peer-reviewed scientific journals and he is the editor-in-chief and founding editor of the Journal of Neural Engineering. His research interests involve the development of new methods to control seizures in patients with epilepsy, to engineer devices to communicate directly with the nervous system and to discover the underlying basis and function of brain waves.
---
Robert C. Elston, PhD
Robert C. Elston, PhD, is a celebrated scholar and educator, having earned a distinguished reputation during his 20 years at Case Western Reserve and his accomplished career prior to joining the university.
Elston is the former chair of the Department of Epidemiology and Biostatistics. During his career, Elston has mentored more than 50 graduate and 40 postdoctoral students in his tenured positions at Case Western Reserve, the University of North Carolina, Chapel Hill and the Louisiana State University Medical Center in New Orleans—at the last of which he initiated the creation of master's degree and doctoral programs in both biometry and human genetics. He has published more than 600 scientific papers—two of which are among the most cited in the journals in which they appear.
Read more about Robert Elston.
---
Donald L. Feke, PhD
Donald Feke (CIT '76, GRS '77, chemical engineering) is a triple threat at Case Western Reserve University: an award-winning educator, a patent-producing researcher and an accomplished administrator. His favorite aspect of his multifaceted role—and the reason he came back to Case Western Reserve—is teaching.
After graduating from Case Western Reserve University, Feke went on to Princeton University to pursue a doctorate in chemical engineering. There, he took a teaching assistant position during his second year and discovered his passion. With no prior teaching experience, Feke was given the added responsibility of preparing and delivering lectures to his students.
---
Joyce J. Fitzpatrick, PhD, MBA, RN, FAAN
According to the World Health Organization (WHO) nurses and midwives represent more than 50% of the world's healthcare workforce, providing a large majority of the care throughout the world. In the United States, for the past two decades, nurses have been rated the most trusted health professionals. Yet, challenges exist to advance the leadership roles of nurses, at the point of care to the board rooms of major health care organizations. Leadership within the nursing profession is key to the future of health care worldwide.
For almost 40 years, Dr. Fitzpatrick has shaped the leadership of the Frances Payne Bolton School of Nursing at Case Western Reserve University, and the leadership of the profession nationally and globally.
Read more about Joyce Fitzpatrick.
---
Faye Gary, EdD, RN, FAAN
Faye Gary—a respected thought leader and researcher at the Frances Payne Bolton School of Nursing—has shaped the field of psychiatric nursing. A fellow of the American Academy of Nursing, Gary has been widely published and received numerous grants totaling more than $24 million during her career. Her work has informed health policy related to child and adolescent mental health, health disparities and domestic violence.
In 1993, Gary's clinical textbook, Psychiatric Mental Health Nursing, was named Book of the Year by the American Journal of Nursing. A competitive honor, the award acknowledges the importance of a book to nursing and its impact on shaping the practice of millions of registered nurses in the United States.
---
Stanton L. Gerson, MD
In 1983, professor Nathan Berger hired Stanton Gerson, fresh out of his fellowship at University of Pennsylvania, to join the School of Medicine's Division of Hematology Oncology. The next year, when Gerson's interest turned to gene therapy, he formed a research partnership with professor Richard Hanson. Berger and Hanson went on to become Distinguished University Professors, and Gerson joined their ranks when he is awarded the permanent, honorific title.
"It is incredible recognition—and it's also a responsibility because Distinguished University Professors, especially given the lineage I follow, represent some very high-quality individuals who have made major accomplishments to the university over many years and decades," Gerson said. "It's a huge honor to follow in the footsteps of such accomplished investigators, inventors, leaders and teachers for this university."
Read more about Stanton Gerson.
---
Paul Giannelli, JD
Professor Paul Giannelli's articles have made him one of the world's leading experts on evidence. The United States Supreme Court has cited his work seven times, while the National Academy of Sciences referenced six of his articles in its 2009 work, Strengthening Forensic Science in the United States: A Path Forward. Giannelli has authored or co-authored more than a dozen books and has led or contributed to several American Bar Association projects relating to standards for forensic science practices and the handling of judicial issues. He also has served on every single law school standing committee—several of them more than once.
---
Melvyn C. Goldstein
Dr. Goldstein is a socio-cultural anthropologist who has spent most of his career studying Tibetan society, culture, language and history in the twentieth century before Tibet become fully incorporated into the People's Republic of China (PRC) in 1959, and then, how it has adapted after that. His research on Tibetan language has produced a 1195 page dictionary ("Tibetan-English Dictionary of Modern Tibetan"),  as well as an English-Tibetan Dictionary, a textbook on written Tibetan ("Essentials of Modern Literary Tibetan,") and a spoken Tibetan primer ("Modern Spoken Tibetan: Lhasa Dialect").
Dr. Goldstein has also written extensively on modern Tibetan history, including a definitive 4 volume, 2,655 page, history of modern Tibet from 1913-1959, all published by the U. of California Press between 1989 and 2019.
Read more about Melvyn Goldstein.
---
Clifford Harding, MD, PhD
Clifford Harding, MD, PhD, professor and chair of the Department of Pathology at Case Western Reserve University School of Medicine and University Hospitals Cleveland Medical Center, is a world class immunologist and major force in physician-scientist and professional-scientist education.  His research focuses on the immunology of infectious diseases, particularly tuberculosis and HIV infection.
As chair of the Department of Pathology, which provides essential insights into disease processes and paves the way for new diagnostics and therapies, he oversees the research and clinical activities of more than 100 faculty and hundreds of staff members with expertise straddling several medical disciplines, including cancer, immunology, neuropathology, and basic and translational research.
Read more about Clifford Harding.
---
Arthur H. Heuer, PhD
With more than 550 publications to his credit, Arthur H. Heuer, Kyocera Professor of Materials, is a world-renowned leader in his field. Both the Cleveland Museum of Art and the Louvre have called upon his expertise to characterize the Renaissance ceramics in their collections. Elected to the prestigious National Academy of Engineering in 1990, he has pioneered numerous studies in materials science, including application of electron microscopy to engineering ceramics, development of strong and tough ceramics, biological ceramics, solid oxide fuel cells, oxidation and hot corrosion of structural alloys, and interstitial hardening of stainless steels. 
His long collaboration with Swagelok Corporation has led to technological breakthroughs and an endowment for the Swagelok Center for Surface Analysis and Materials (SCSAM), an internationally renowned materials characterization facility. Heuer founded the center early in his career and continues to serve as its director. 
---
M.C. "Terry" Hokenstad Jr., PhD
M.C. "Terry" Hokenstad, Ph.D., ACSW, holds the title of Distinguished University Professor at Case Western Reserve University. He is the Ralph S. and Dorothy P. Schmitt Professor at the Mandel School of Applied Social Sciences and serves as Professor of Global Health in the University's School of Medicine.
Long active in international organizations, Dr. Hokenstad has served as a consultant to the United Nations and was a member of the United States Delegation to the U.N. World Assembly on Ageing in 2002. He has been president of the North American and Caribbean Region of the International Association of Schools of Social Work and has served as both treasurer and membership secretary of IASSW. At the national level, he has been president of the Council on Social Work Education, the national accrediting body for schools of social work, and chair of the International Committee for the National Association of Social Workers.
Read more about Terry Hokenstad.
---
Mukesh Jain, MD
Mukesh Jain, the Ellery Sedgwick Chair and Distinguished Scientist in the Department of Medicine at Case Western Reserve University, is internationally recognized for his discovery of the role of a family of factors termed Kruppel-like factors (KLFs)—DNA-binding proteins that regulate a host of biological processes in the body, including those of the heart, blood vessels and immune cells.
Jain's research on KLFs has been published in top-tier peer-reviewed journals and has been continuously supported for 15 years through funding from the National Institutes of Health, American Heart Association and American Diabetes Association. 
---
Eva Kahana, PhD
As a renowned scholar on elderly care issues, Eva Kahana has won countless awards from national and international organizations. Yet, the news that she had been named a Distinguished University Professor at Case Western Reserve University took her entirely by surprise.
"They say that people far away might recognize one's achievements more readily than those who are next door, so I think it's very unique when the colleagues you work with day in and day out feel the work you've done merits such recognition and nominate you for such a great honor," said Kahana, the Pierce and Elizabeth Robson Professor of Humanities and Sociology. 
---
Jonathan Karn, PhD
Eradicating or finding a functional cure for HIV has been a primary focus of Jonathan Karn's career, earning him a global reputation as an HIV-cure thought leader. An internationally recognized molecular virologist, he initially built his career on conducting pioneering basic research on the study of transcriptional control in HIV. Since coming to Case Western Reserve University in 2002, he has become increasingly involved in translational research, taking advantage of the opportunity to advance HIV research to the bedside.  Dr. Karn chairs the Department of Molecular Biology and Microbiology and is director of the university's Center for AIDS Research (CFAR). 
Read more about Jonathan Karn.
---
James W. Kazura, MD
Former Case Western Reserve University School of Medicine dean, Frederick Robbins greatly influenced James W. Kazura—an up-and-coming medical house officer in the 1970s—to pursue global health as a career.
At the time, Kazura was surrounded by Robbins and other physicians and scientists devoted to improving the health of people in developing countries. Their dedication made a lasting impression on Kazura, inspiring his passion for global health.
Kazura, professor of international health, medicine and pathology, channeled that passion over the decades to pursue advancements in the understanding of genetic and immune mechanisms underlying infectious diseases that affect the health and socioeconomic well being of impoverished populations in Africa, Asia and Latin America. 
---
Lynn Landmesser, PhD
Professor Lynn Landmesser is, quite simply, a legend in the area of developmental neuroscience. She has served as the editor of every major neuroscience journal and also as president of the Society for Developmental Biology. In addition, she also has participated on the governing boards of three separate institutes at the National Institutes of Health and the scientific review board of the Howard Hughes Medical Institute. She is a member of the National Academy of Sciences and the American Academy of Arts and Sciences, and also a fellow of the American Association for the Advancement of Science. Finally, she has chaired the medical school's department of neurosciences for more than a dozen years.
---
John J. Lewandowski, PhD, ME, BS
When John J. Lewandowski, the Arthur P. Armington Professor of Engineering II in the Department of Materials Science and Engineering, began his academic career as a first-generation college student in 1974, he was unsure of his career path. Today, Lewandowski is an internationally recognized materials science researcher, an inspiring professor and mentor, and now a Distinguished University Professor.
"If you would have told me years ago that I would be involved with the things that I'm doing now, I wouldn't have believed it," said Lewandowski. 
Read more about John Lewandowski.
---
Chung-Chiun Liu, PhD
Chung-Chiun Liu earned his doctorate in chemical engineering from Case Western Reserve University in 1968, following bachelor's and master's degrees in the same subject from National Cheng Kung University in Taiwan and California Institute of Technology, respectively. He then spent a decade on the faculty of the University of Pittsburgh before returning to Cleveland to join the CWRU faculty as a full professor of chemical engineering.
Now, Liu serves as the Wallace R. Persons Professor of Sensor Technology and Control and director of the university's Electronics Design Center. His research spans multiple areas, including electrochemical engineering, microelectronic materials and fabrication processes—knowledge he uses to develop miniature electrochemical and biomedical sensors, among other products. 
Read more about Chung-Chiun Liu.
---
Kalle Lyytinen, PhD
Kalle Lyytinen, PhD, is the Iris S. Wolstein Professor of Management Design; chair and professor, design and innovation; and faculty director, doctor of management program. Lyytinen's research examines how rapidly changing digital innovations shape organizations and industries. His work helps organizations know how to identify, absorb, manage, implement and be transformed by digital innovations. His recent projects have focused on engineering practices, telecommunications, Architecture, engineering and construction industry, and software development organizations. In these settings Lyytinen has studied especially the adoption of new technologies, new forms of collaboration, and new ways to determine system requirements. 
Read more about Kalle Lyytinen.
---
Ica Manas-Zloczower, PhD
Ica Manas-Zloczower has spent her entire professional teaching career at Case Western Reserve University. In her 30 years on campus, she's become known as a prolific researcher in macromolecular science and engineering, a committed colleague and an influential educator.
Manas-Zloczower's esteemed career all began with an early love for math and physics. As a way to combine her two passions, she sought out engineering, which would allow her to learn about phenomena in science and use that understanding to create new devices and methodologies.
Teaching, she remembered, always seemed to be the right way to harness that love of engineering.
Read more about Ica Manas-Zloczower.
---
Sanford D. Markowitz
Dr. Sanford (Sandy) Markowitz is the Sanford D. Markowitz / Frances Wragg Ingalls Professor of Cancer Genetics in the Department of Medicine at the Case School of Medicine, and a medical oncologist and cancer researcher, who is nationally recognized for his contributions in cancer genetics, personalized medicine, and cancer biology.
Highlights of Dr. Markowitz's achievements are: discovering two key colon cancer suppressor genes, TGF-ß RII and 15-PGDH; showing RII mutations explain how cancers develop in DNA repair deficient cells (e.g. in Lynch syndrome); developing 15-PGDH inhibitor drugs as therapeutics for tissue regeneration; and pioneering molecular tests of stool DNA for early colon cancer detection.
Read more about Sandy Markowitz. 
---
Maxwell J. Mehlman, JD
When Maxwell J. Mehlman joined the law school in 1984, the last science class he'd taken was a high school biology course—a fact that stands true today, even as Mehlman is one of the most renowned experts on health law and bioethics.
His accomplishments in the field, as well as his commitment to Case Western Reserve University, are so extensive that he was bestowed another title: Distinguished University Professor. 
Read more about Maxwell Mehlman.
---
Shirley Moore, PhD, RN, FAAN
Dr. Shirley Moore is a pioneering research leader and scientist and dedicated mentor to students and colleagues. Her 20-year program of interdisciplinary research testing interventions to reduce cardiovascular disease risk factors has created new knowledge and improved health behaviors. As principal or co-investigator on 43 research grants totaling over $35 million and 8 education/training grants totaling almost $7 million, Dr. Moore is a self-management science visionary, particularly related to understudied populations. Her far-reaching contributions include national and international research presentations, over 150 peer-reviewed journal articles, 26 as first author, plus over 80 other publications, including abstracts and books.
---
Krzysztof Palczewski, PhD
Dr. Krzysztof (Kris) Palczewski is John H. Hord Professor and Chair of Pharmacology at the Case Western Reserve University (CWRU) School of Medicine. He is a vision scientist, internationally recognized for his contributions to: 1) understanding the basic molecular events that initiate vision in the vertebrate eye, 2) elucidating the structural biology and pharmacology of G protein-coupled receptors (GPCRs), 3) identifying new drugs for the treatment of inherited retinal diseases, and 4) discovering novel imaging methods to view the human retina for the early detection of disease.
Kris' contributions to science are widely recognized as evidenced by more than 550 scientific articles published in such respected peer-reviewed scientific journals as Nature, Science, and Neuron, Proceedings of the National Academy of Sciences, the Journal of Biochemistry and the Journal of Clinical Investigation. The impact of his research is extraordinary with an h-index of 98 and over 35,000 citations (Google scholar).  
Read more about Krzysztof Palczewski.
---
P. Hunter Peckham, PhD
P. Hunter Peckham, PhD, Donnell Professor of Biomedical Engineering and Orthopaedics, is a celebrated scholar in the university community and known around the world for his research, which focuses on the use of functional electrical stimulation to restore hand and arm control in paralyzed individuals.
He was instrumental in the creation of the Cleveland Functional Electrical Stimulation (FES) Center, which studies the application of electrical currents to generate or suppress nerve activity. As the center's executive director, Peckham has built a model of successful research collaboration among scientists, engineers and clinicians from the Cleveland Veteran's Administration Medical Center, Case Western Reserve University and MetroHealth Medical Center. 
Read more about Hunter Peckham.
---
Gary Previts, PhD
In more than three decades at Case Western Reserve University, Professor Gary John Previts has established himself as one of the world's leading experts on the history of accounting theory and practice. He is the founding and continuing editor of the journal Research in the Accounting Regulation (Elsevier). He was a member of the U.S. Department of Treasury's Advisory Committee on the Auditing Profession, and currently serves on the Public Company Accounting Oversight Board Advisory Council and is an advisor to the Comptroller General of the United States. In 2010, he received the outstanding educator award from the American Accounting Association. Three years earlier he received the Gold Medal for Distinguished Service from the American Institute of Certified Public Accountants. He has twice served as chair of the accountancy department and held the position of Weatherhead's Associate Dean for Undergraduate Studies for more than a dozen years.
---
Roger Quinn, PhD
When Dr. Roger Quinn, Arthur P. Armington Professor of Engineering, joined the Department of Mechanical and Aerospace Engineering 37 years ago, the term "biorobotics" was unknown. Initially focused on simulation and control of space structures, Quinn was approached by former CWRU professor Randall Beer and professors of biology Hillel Chiel and Roy Ritzmann to build an insect-like robot for an innovative project. It was this project that would eventually put his name on the short list of people who pioneered the field of biorobotics. 
---
Clare Rimnac, PhD
Prof. Rimnac received her B.S. in Metallurgy and Materials Science from Carnegie-Mellon University in 1978, and her M.S. in 1980 and Ph.D. in 1983 in Metallurgy and Materials Engineering from Lehigh University.  Prior to her faculty appointment at CWRU in 1996, she was a Scientist in the Department of Biomechanics at The Hospital for Special Surgery (affiliated with Cornell Weill College of Medicine) in New York City.
 
Prof. Rimnac's research has been funded for more than 30 years by the NIH, orthopaedic industries, and private foundations for her research directed towards orthopaedic biomechanics, with a focus on implant retrieval analysis and device registry research, mechanical behavior and modeling of materials used in total joint replacements, lifetime and degradation science, and damage and fracture behavior of bone tissue.
---
Frederick C. Robbins, MD
[1916-2003] Pediatrician and virologist.  Nobel laureate in Physiology/Medicine, 1954, jointly with Enders and Weller for their discovery of the ability of poliomyelitis viruses to grow in cultures in various types of tissue. Professor of Pediatrics 1952. Fellow of the American Academy of Arts and Sciences, 1962; Dean of the School of Medicine 1966-1980; President of the Institute of Medicine of the National Academy of Sciences, 1980-1985; and Distinguished University Professor, Emeritus Professor and Dean 1986-2003. Benjamin Franklin Medal recipient from the American Philosophical Society 1999. 
---
Alan Rocke, PhD
For nearly forty years, Bourne Professor of History Alan J. Rocke has taught generations of CWRU students about both history and science, earning along the way the Carl F. Wittke Award for Distinguished Undergraduate Teaching.  The author of dozens of journal articles and six books, Rocke is internationally recognized as one of the leading historians of science in the United States.
Raised in the Chicago area, Rocke received his bachelor's degree from Beloit College, worked as a chemist at the Food & Drug Administration in Washington, D.C., and then studied at the University of Wisconsin-Madison, where he earned the Ph.D. in 1975.  One of the attractions that drew him from doing actual science to seeking a historical understanding of science is the prospect of the latter field to bridge the so-called "two cultures": historians of science investigate the essential character of science by examining its history, and likewise explore the impact that scientific and technological developments have had in the broad sweep of social, cultural, and intellectual history.
---
Sandra Russ, PhD
As a clinical child psychologist, Sandra Russ recognized a connection between creativity and pretend play. That link prompted questions: How is pretend play related to creativity? Could creativity be increased through pretend play experiences?
Digging for answers led Russ to develop "The Affect in Play Scale" to measure play in a standardized way—now considered a gold standard in the field. Through such groundbreaking work, she has become one of the most recognized scholars in children's pretend play.
"I am still investigating the area of emotion and creativity," said Russ, the Louis D. Beaumont University Professor in the Department of Psychological Sciences. "That interest is really my first love. I never get tired of reading or thinking about it." 
---
Robert F. Savinell, PhD
Robert F. Savinell, a native Clevelander, joined the faculty of Case Western Reserve faculty in 1986 as an associate professor of chemical engineering, and shortly after his interest in electrochemistry matured into a passion of his. 
During Savinell's graduate studies at the University of Pittsburg,  he was exposed to electrochemistry and the mentorship of Chung-Chiun Liu, now a Case Western Reserve University Distinguished University Professor.
Years later, Savinell, the George S. Dively Professor of Engineering and a professor of chemical engineering, is an internationally recognized scholar in the field of electrochemistry and a cornerstone for the Case Western Reserve electrochemical community. His achievements have earned him the university's top honor for its faculty—Distinguished University Professor—a title he now shares with his longtime mentor.
Read more about Robert Savinell.
---
Lynn Singer, PhD
Cocaine-exposed infants, children with chronic lung disease arising from prematurity, babies suffering from the effects of fetal exposure to the drug Ecstasy—all are benefitting from the scholar's eye and compassionate heart of Lynn Singer, professor of population and quantitative health sciences, pediatrics, psychiatry and psychology at the School of Medicine.
For more than 30 years, Dr. Singer, who was also Case Western Reserve University's deputy provost and vice president for academic affairs, has made distinguished contributions to the field of pediatric psychology, particularly early identification of infant and childhood risk and biologic and psychosocial factors affecting maternal and child health.  She has also been a stalwart in increasing the participation of women and underrepresented minorities in scientific education and careers as well as a storied educator and mentor whose guidance has led numerous students and protegees to academic careers and leadership positions nationwide.
---
Kurt C. Stange, MD
Relationships are a pillar of Kurt Stange's personal and professional philosophy. He cultivates them in his practice of medicine, when working with fellow faculty across the university, and advocates for their critical role in the health of individuals and communities.
That personal, collaborative spirit has been essential to Stange's career since he was a high-school student in East Rochester, New York. There his teacher, Jane Kunzog—with whom Stange still stays in touch today—taught him the importance of approaching science and health as inextricably linked to people and their experiences. That lesson stuck with him through degrees at Dartmouth, the Albany Medical College, the University of North Carolina School of Public Health and a residency at Duke University. 
---
Glenn D. Starkman, PhD
During 20 years at Case Western Reserve University, Glenn Starkman's research has tackled some of the most important problems in cosmology, particle physics and astronomy.
As he's worked in his chosen fields, Starkman has also challenged and helped set the course for the undergraduate education and experience at Case Western Reserve, and has fostered cross-campus collaboration.
He's helped NASA create tools that will one day be used to image and characterize planets beyond our solar system. Having developed the first observational approaches for differentiating models of modified  gravity from dark energy, his work is now at the core of dark energy surveys. Researchers at the world's largest particle accelerator, the Large Hadron Collider, use the computer code Starkman and colleagues developed that models the production and decay of mini-black holes to know how to search for such events.
Read more about Glenn Starkman. 
---
Herman D. Stein, DSW
[1917-2009] Professor and Dean, School of Applied Social Sciences, 1964. Provost 1969, University Vice-President, 1970.  Distinguished University Professor 1972. President, International Association of Schools of Social Work. Rene Sand Award recipient, International Council on Social Welfare. Professor Emeritus 1990. Stein's leadership in the community and on campus played an essential role during the turbulent period of social unrest in Cleveland in the late 1960s. He also helped bring resolution to institutional changes following the federation of Western Reserve University and Case Institute of Technology during the same period.
---
Philip L. Taylor, PhD
The impact of Professor Philip L. Taylor's work can be summed up by one number: four. That is how many scientific phenomena bear his name. From the Nielsen-Taylor effect detailed in 1975 through to the Hamaneh-Taylor model introduced in 2009, his research has deepened the world's understanding of thermoelectricity, liquid crystals and the nature of different systems in stasis and flux. Professor Taylor has authored and co-authored more than 200 papers published in peer review journals and also has mentored more than 50 doctoral and postdoctoral students. He is a Fellow of both the American Physical Society and the American Association for the Advancement of Science.
---
Thrity Umrigar, PhD
Thrity Umrigar is a celebrated writer with an international following, and an English professor dedicated to her students and her craft.  She is the author of a number of bestselling novels including The Space Between Us, If Today Be Sweet, Bombay Time, The Weight of Heven, and The World We Found. Her novels have been translated into over fifteen languages.  Thrity grew up in India and was drawn to reading, especially novels about life in America.  She left her family and immigrated to the United States when she was 21, even though her family expected her to take over the family business.  While writing articles for Ohio newspapers for 17 years, she also began writing fiction, often about marginalized societies and class backgrounds.  She enrolled at Kent State University and earned her PhD in African-American literature, and joined Case Western Reserve University in 2002. Today, Thirty still contributes to the book pages of the Boston Globe and the Washington Post.  She is the recipient of the 2009 Cleveland Arts Prize in Literature, was a finalist for the 2006 PEN/Beyond Margins award and was awarded a Nieman Fellowship to Harvard in 2000.
---
Harland G. Wood, PhD
[1907-1991] Harland Wood was appointed to the faculty in 1946. He served as Professor and first Director/Chair of the Department of Biochemistry in the School of Medicine. Internationally known for his work on carbon dioxide and the understanding of its use in cell biology Wood's research improved the treatment of diseases, including diabetes. Wood was among the first scientists to use radioisotopes in cell biology. He was elected to the National Academy of Science in 1953. He served on the Board of the American Cancer Society (1965-69) and on the President's Science Advisory Committee for Lyndon B. Johnson and Richard Nixon (1967-71). Wood was recognized as the first Distinguished University Professor (1970). He was prominent in the International Union of Biochemistry and Molecular Biology, serving as Secretary General from 1970-73. He became Professor Emeritus in 1978 but continued his work. In the 19 years between his 70th birthday and his passing in 1991, he published 96 papers. Wood was awarded the National Medal of Science in 1989. The Medical School building on Adelbert Road was named in his honor.