Spring Abroad 2019
21st Century Ghana: Culture, Institutions and Development in West Africa (SASS 375H/575)
3 credits
Take your passion for social change global. See first-hand the immense potential and enduring challenges of Sub-Saharan Africa in one of the continent's most politically and economically stable countries.
This study abroad course helped me to continue to develop my own framework of what it means to be a global citizen and understand my role in fighting for social justice. It left me feeling inspired and has pushed me even more toward pursuing my passion of empowering women and girls.

—Jenn Angelo, social work and nonprofit management student, Ghana May 2017, India 2017, Ecuador 2015
Gain insight into tensions between the traditions of the past and the exigencies of the globalizing present as well as the juxtaposition of an increased quality of life for a small few while much of the population continues to experience deep, enduring poverty and hardship. Dive into the rich art and culture of Ghana through visits to the capital city, Accra, as well as Kumasi, the heart of the famed Ashanti Kingdom and the home region of the master weavers of Kente cloth.
My experience in Ghana provided a refreshing view of common problems the social work profession aims to address. The course helped me grow as a professional and researcher. Moreover, I became more inclusive and open-minded.
—Xiao Ding, social work student, Ghana 2017, Netherlands, 2018
In-Country Dates
May 21, 2019 to June 5, 2019
Must arrive in Accra Kotoka International Airport by May 21.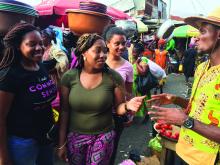 Pre & Post-Trip Saturday Seminars
February 23, 2019
March 30, 2019
June TBD
Program Fee
$3,495 includes accommodations, in-country transportation, most meals, agency visits, guest lectures, excursions and medical insurance abroad.
Airfare, some meals, personal spending money, vaccinations, visa fees and passport fees (if applicable) are not included in the program fee. Program fees are separate from tuition charges.