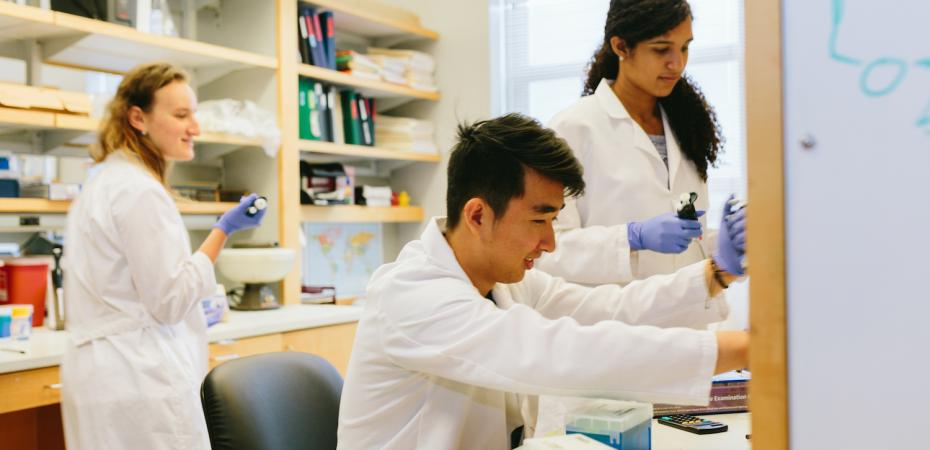 The Youth Engaged in Science (YES) program, which runs concurrently with the Scientific Enrichment Opportunity (SEO) program, supports educational opportunities for underrepresented minority middle and high school students from the Cleveland Metropolitan School District (CMSD) and East Cleveland. YES introduces students and their families to the fundamentals of research and actively partners with CMSD teachers to help them develop programs and better explain cancer basics. The program's three-pronged structure engages students early on, sparks their interest in cancer research, and prepares them for future educational opportunities and successful entrance into jobs in clinical or biomedical settings.
During YES, students participate in research projects full-time for eight weeks in the summer, working directly with outstanding Case Comprehensive Cancer Center (Case CCC) faculty investigators.  
The National Cancer Institute (NCI) supports the program with a five-year, $2.5 million grant. YES builds on Case Western Reserve University School of Medicine's successful SEO program and is backed by Case CCC.
Students from CMSD and East Cleveland schools are encouraged to apply.
Application Information
YES/SEO applications open in January.
The application preview is from last year and is subject to change.
Program Eligibility
Students are selected to participate in this exciting program based on their interest in science, scholastic achievement, and letters of recommendation submitted by high school science teachers and school counselors.
To be eligible for the program, applicants must:
Attend a Cleveland-area high school
Have a minimum GPA of 3.0
Be at least 14 years old by the time they begin research activities
Tips for a Successful Application
Gather all the materials you need before you begin writing the application. 
Type your answers to the application questions in a Word document first. Use a spell/grammar checker to look for mistakes. When it is perfect, copy and paste it into the online application. 
Avoid one-word answers. Instead, explain your experiences. 
Pay close attention to the questions and make sure to answer them fully.
Be real about your interests.
If you are not sure about your scientific focus, say so! 
Get your letters of recommendation and transcripts to us in a timely manner.