September 9-10, 2022
VeloSano is more than a fundraising event. It's more than simply a bike ride. VeloSano is a movement with the goal of bringing an entire community together to help one another. The Case Comprehensive Cancer Center is honored to participate in its seventh VeloSano! Together, our team of Case CCC employees and friends will join the movement to raise money for the cause. The Case CCC is made of passionate individuals who are committed to cancer research, prevention, treatment and cures! 100% of the money we raise will support lifesaving cancer research in Northeast Ohio's top-tier hospitals and research institutions.
Our continuing goal is to bring sustainable funding to cancer research by enlisting the passion and energy of thousands of people who wish to give back…including YOU! Over the years, our team has collectively raised nearly $406,000 for VeloSano, every dollar going toward cancer research. Case CCC's team participation has collectively brought $2.1 million back to our center to fund collaborative pilot research projects.
Save the date for VeloSano 9! Bike to cure weekend is scheduled for September 9-10, 2022.
Ride with Us
Join riders from the Case Comprehensive Cancer Center and our partners - University Hospitals, Seidman Cancer Center, Case Western Reserve University and the Cleveland Clinic - as we partner to raise money and awareness for cancer research.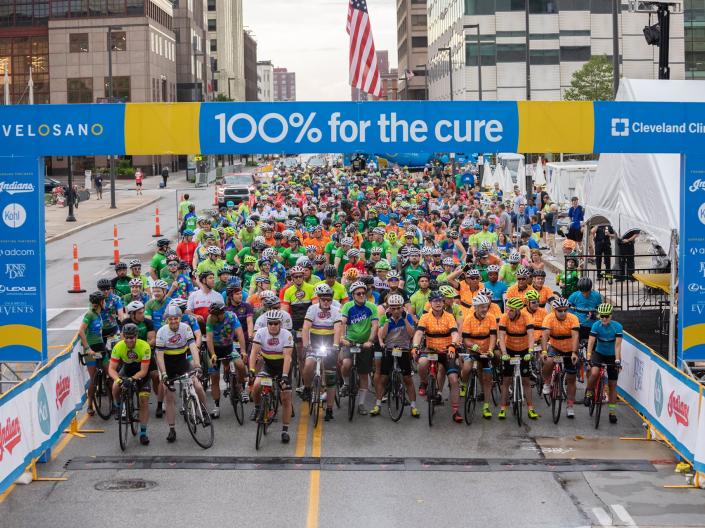 Where your money goes
Every dollar raised through VeloSano supports innovative research being conducted at the Case Comprehensive Cancer Center. Read more about our VeloSano Pilot Awards.