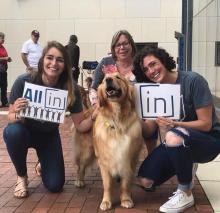 Supporting students makes a difference
Our social work, nonprofit management and PhD students are future change leaders committed to building a more just and inclusive society.
Our dedicated alumni and friends help make this possible for our students through gifts supporting scholarships, research centers, research and faculty, and designated programs and projects.
Your gift provides financial assistance for tuition, books, out-of-classroom educational opportunities and other unforeseen costs. For many students, a scholarship is the deciding factor in their choice to pursue a master's-level education.
The development staff at the Mandel School works with donors to ensure every gift is directed to the specific purpose it's requested. All gifts are fully tax-deductible.
Please contact our office at 216.368.0113 with questions.
Ways to Give
Text To Give: Text 52014 with "@cwrugive," "#mandel" and your donation amount
Annual Fund
We dedicate 100% of our school's annual fund to student support in the form of school-directed scholarships and field placement stipends.
A gift of any amount provides immediate support to students.
Scholarship Funds
Named scholarship funds are established in the name of the donor or in honor of someone. The purpose is designated by the donor. These funds can be spent in full annually or be endowed to last in perpetuity.
 
A gift of $25,000 will establish a named scholarship.