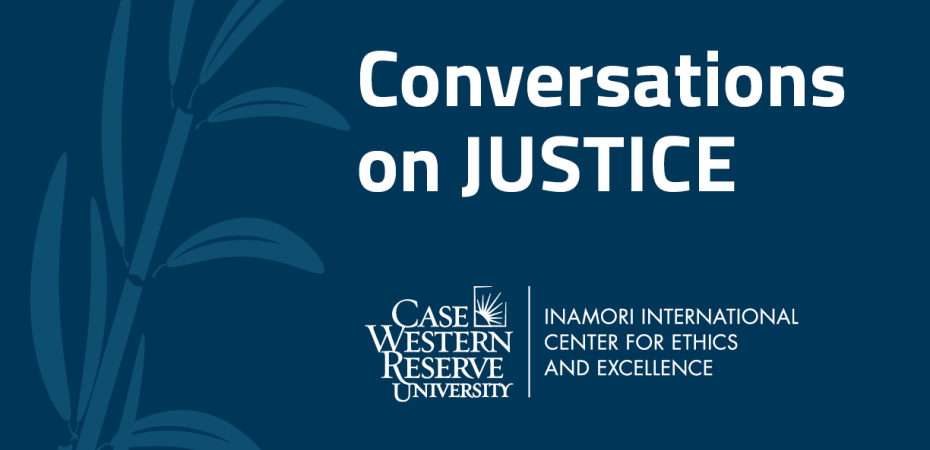 Call for Proposals: Local and Global Inequities in Healthcare
Proposals for funding were welcomed from all CWRU undergraduate, graduate, and professional students. The Inamori Center will provide students funding in the form of:
Conversation Grants to create spaces for conversations about inequities in healthcare and

Project Awards to pursue a service, scholarship, or research project about inequities in healthcare.
---
Events 
All events are free. The large majority of events are open to the public (unless noted). 
The Essentials of Reproductive Justice: Access, Autonomy, and Action 
Tuesday, October 11th, 9:00am to 3:00pm 
Created for the CWRU campus community to offer a basic understanding of what Reproductive Justice is and all the ways in which reproductive rights and reproductive health can be affected by social injustices.
Learn More and Watch Event Videos  
---
Centering the Rights of Women, Children, and Adolescents
Friday, October 14th
Hosted by Partners In Health
A lunch and learn session for CWRU students. Join us as we livestream and participate in PIH's webinar on "Centering the Rights of Women, Children, and Adolescents" as part of the Paul's Legacy and PIH's Path Forward discussion series. Registration is required.
---
 

Conversations to Promote Advance Care Planning in the Cleveland LGBTQ+ Community
Wednesday, April 12th 
5:30 - 7:00pm at the Inamori Center (Tinkham Veale University Center 280 - directions)
Marcie A. Lambrix, Certificate in Risk Management Student, School of Law
Anna Goff, PhD Student, Department of Bioethics, School of Medicine
In Partnership with MetroHealth Center for Biomedical Ethics and the CWRU LGBT Center
Advance care planning (ACP) is an area of healthcare significantly impacted by structural bias, especially with respect to vulnerable, stigmatized populations like the LGBTQ+ community. Research suggests that ACP rates are disproportionately low in the LGBTQ+ community and without ACP documents, the LGBTQ+ community can be subject to state laws that only recognize blood relatives as surrogates, not allowing partners, friends, or "chosen family" to be part of vital health care decisions. This program, led by Marcie A. Lambrix and Anna D. Goff, will encourage candid conversations about ACP among the LGBTQ+ population and support community members in accessing and completing ACP documents on site. Light refreshments will be served.
---
Bending the Arc Screening: A Tribute to Partners In Health and Dr. Paul Farmer
Monday, April 24th
6:00pm to 9:00pm, Thwing Ballroom
We invite current CWRU students, staff, and faculty to join us for a screening of Bending the Arc. This riveting documentary follows the story of three young people dedicated to changing public health during international crises. This event has been organized in tribute to Partners In Health and the memory of Dr. Paul Farmer, who was scheduled to receive the Inamori Ethics Prize in 2022 before his passing.
For more information about the film, please see: https://bendingthearcfilm.com/about/ 
5:30pm: Doors will open. Light refreshments will be available. 
6:00pm: Welcome and Opening Remarks
6:15pm: Screening of Bending the Arc
8:45pm: Raffle
---
Where You Live Can Kill You: Factors that Contribute to Low Maternal Outcomes in Resource Scarce Areas 
Wednesday, April 26th
11:00am to 2:00pm, Tinkham Veale University Center, Ballroom A
Tshiya A. Subayi, DBA Student, Weatherhead School of Business
Three Minute Thesis Competition Winner
Research shows that out of every 139 million women who give birth around the world, 289,000 die during childbirth each year. In 2006, Professor Mahmoud Fathalla, past president of International Federation of Gynaecology and Obstetrics suggested: "Women are not dying because of untreatable diseases.They are dying because societies have yet to make the decision that their lives are worth saving: We have not yet valued women's lives and health highly enough."
Does this statement still hold some truth today?
How can we change this dire trajectory of women dying whilst giving life?
Join us in a candid conversation exploring ways you can implement effective strategies to secure better outcomes for mothers and children.
Dr. Ifeolorunbode Adebambo, MD is a Family Medicine Specialist in Cleveland, OH and has over 36 years of experience in the medical field. She graduated from UNIVERSITY OF IBADAN / COLLEGE OF MEDICINE in 1987. She is affiliated with Main Campus Medical Center.
Charles Ok Pannenborg, Ph.D., is a pioneer of the global health workforce movement and an accomplished leader in the field of global health. Dr. Pannenborg has worked in more than 20 countries for various organizations, including the World Health Organization; the United Nations High Commissioner for Refugees; and after more than 25 years at the World Bank, he retired as the Bank's Chief Health Advisor. He also serves as chair of the board of the Netherlands' Government Program on International Health Policy and Health Systems Research, chair of the Academic Supervisory Committee for Health of the Royal Tropical Institute in Amsterdam. He holds degrees in law, international relations, tropical medicine and public health, and business and management.
Vijaya Parameswaran, MSC, PhD student is a social science researcher with the division of cardiology at Stanford University's school of medicine, where her area of research includes the use of digital health technologies to enhance lifestyle modification programs. She has been instrumental in developing and managing an innovative digital health telemedicine platform that Stanford health care has adopted for video visits during the COVID 19 pandemic. As part of her doctoral thesis, she is studying the individual and systemic drivers of protein choice and approaches towards crafting a sustainable food system.
Sameera Al Tuwaijri. MD, PhD is the Global Lead on Population and Development at the Health, Nutrition and Population Global Practice of the World Bank. Prior to joining the World Bank in 2010, she was Regional Adviser, Reproductive Health Policy, United Nations Population Fund (UNFPA), Arab States, and Director of the International Labor Organization's program on Public Health and Safety. She served as the first Regional Director, Arab States, UN Women. She is a board-certified obstetrician/ gynecologist. She has a Master of Public Health from Harvard University, a PhD in Health Policy and a post-doctoral fellowship from Johns Hopkins.
---
Inamori Center Open House & Ethics in Healthcare: Conversations on Access and Justice
Friday, April 28th
Inamori Center Open House
10:00am - 12:00pm, Tinkham Veale University Center, Suite 280
Start your day off with a visit to the Inamori Center. Peruse 1700 different materials in our library. Explore our two classrooms. Take a tour of Inamori Ethics Prize winners. Work on a jigsaw puzzle or puzzle a moral dilemma.
Snacks will also be made available - while supplies last!
Ethics in Healthcare: Conversations on Access and Justice
Monica L. Gerrek is an Assistant Professor in the Department of Bioethics at Case Western Reserve University School of Medicine and serves as the Co-Director of both the Center for Biomedical Ethics and the Institute of Burn Ethics at the MetroHealth System.
12:45 to 2:00pm, Tinkham Veale University Center, Ballroom A
Head down the hall to Ballroom A for our 12:45pm conversation with individuals and organization who have worked locally and globally to address the profound challenges of getting care to those who need it most.
| | |
| --- | --- |
| | Jeff Eastman, Chief Executive Officer, Remote Area Medical, which is based in Rockford, Tennessee. Stan Brock, the founder of RAM, was one of our earliest Inamori Ethics Prize winners (2010). Stan has sadly since passed away, but RAM is still going strong, and Jeff will be a great representative of their efforts to bring free healthcare to underserved communities. |
| | Britta Latz, Executive Director, MedWish International, which is based in Cleveland, Ohio. This nonprofit works to repurpose and redistribute medical products to improve healthcare access and environmental sustainability, locally and globally. |
| | Lisa Peters, Epidemiologist, who worked in the DRC with our 2014 Inamori Ethics Prize winner, Dr. Dennis Mukwege, who later went on to win the Nobel Peace Prize in 2018. She has also consulted for the World Health Organization on emergency response for emerging infections and on COVID-19 responses in Louisiana. She currently works on access and reproductive rights. |
---
 

Financial Toxicity and Cancer in America
Dr. Fumiko Chino, Memorial Sloan Kettering, Assistant Attending Radiation Oncology
Thursday, May 18th 
12pm-1pm at Wolstein Auditorium (2103 Cornell Rd - directions) - livestream will be available
In partnership with UH Radiation Oncology
Shannon Fang, MD Student, School of Medicine
Financial toxicity refers to the harm from high healthcare costs that can compromise a patient's health, security, and well-being. These expenses are notably burdensome in oncology patients due to the high costs of cancer treatment. Dr. Chino is a leading researcher in financial toxicity, motivated by the personal experience of her late husband's cancer journey. Her talk will discuss how financial toxicity disproportionately affects populations made vulnerable by structural racism, the effects of financial toxicity, and potential solutions to financial toxicity on a policy, provider, and patient level.
This event will also be available on livestream at:  www.case.edu/livestream/s1.
---
The event will be live-streamed: https://case.edu/livestream/s1
---