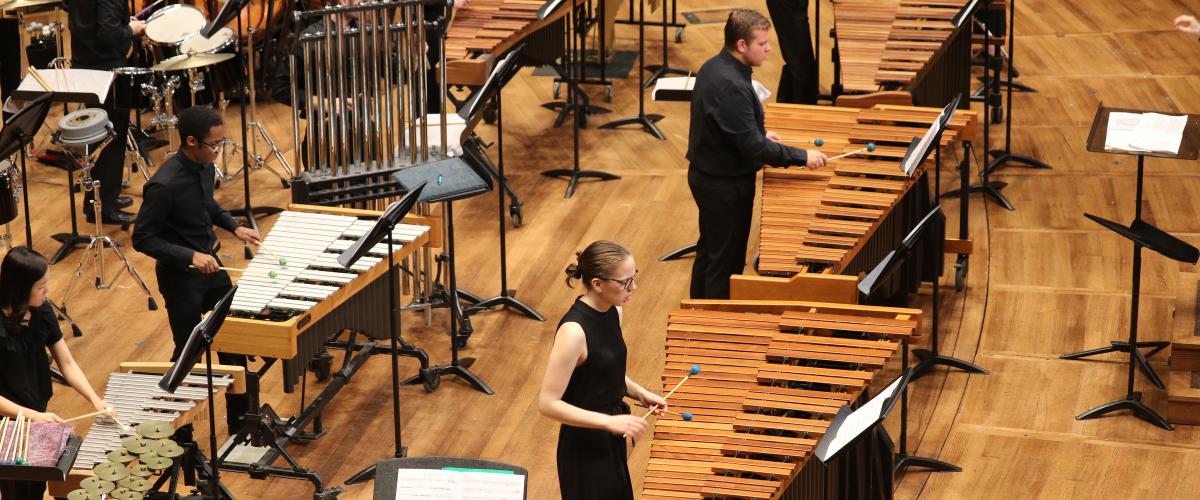 Director
Mr. Matthew Larson
Rehearsal Day/Time
Mo, 9:00-11:00 PM
Rehearsal Location
Spartan Rehearsal Hall
Participation Information
Requires audition. Concurrent enrollment in MUEN 383 or MUEN 385.
About
The Case Western Reserve University Percussion Ensemble is an elective performance ensemble dedicated to the thoughtful performance of the vast and varied repertoire for the modern percussion ensemble. The ensembles presents one or two concerts each year.
Director: Mr. Matthew Larson
Auditions
The ensemble is open to all students with an interest in percussion by audition. For more information and to schedule an audition time please refer to the percussion-specific sections of the Symphonic Winds website.
Students interested in joining the Percussion Ensemble must also perform at least two semesters with either Symphonic Winds or Symphony Orchestra. Those students who have not already completed the required co-requisite should plan to perform with one primary ensemble along with Percussion Ensemble during their first semester.
Registration
Enrollment permissions are granted in the Student Information System (SIS) following a successful audition or during the first week of class. Once course permissions have been granted (before the Drop/Add period ends) students should return to their SIS account to register in the appropriate MUEN course. The Drop/Add Period ends on the 2nd Friday of each semester.
Performances
All performances held in the Maltz Performing Arts Center as part of the Silver Hall Concert Series or in Harkness Chapel as part of the CWRU Music Concert Series are live-streamed for free concurrently with the posted concert time. All concerts occur in eastern time.
---
Percussion Studio
Music majors with percussion as a primary instrument and students taking percussion lessons will be issued access to a Percussion Studio lockbox/key. The Percussion Studio can be used by reservation; walk-ins are permitted when the room is not in use. 
Ensembles members playing percussion or drum set can rehearse in the rooms in which their ensemble meets during Active Hours by reservation; walk-ins are permitted when the room is not in use. The building monitor and/or professional staff member can assist with room and equipment access, including drum set lockers and/or percussion cages. 
Percussion Ensemble: Spartan Rehearsal Hall
Popular Music Ensemble: Denison Rehearsal Hall
Jazz Ensembles: Wade Rehearsal Hall
Questions: Please contact Nicholas Strawn, Performance and Operations Assistant