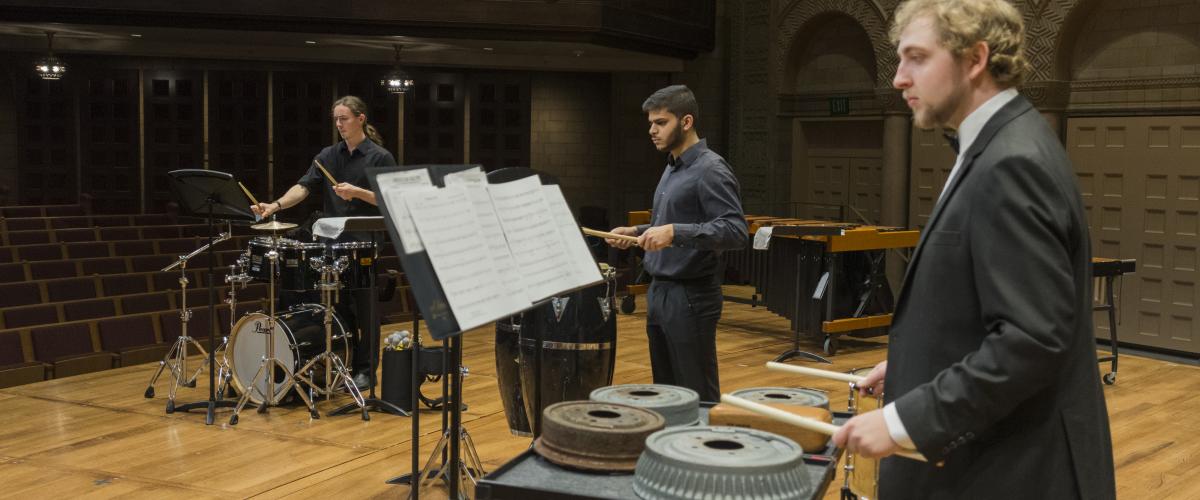 Director
Mr. Matthew Larson
Rehearsal Day/Time
Mo, 9:00-11:00 PM
Rehearsal Location
Spartan Rehearsal Hall
Participation Information
Requires audition. Concurrent enrollment in MUEN 383 or MUEN 385.
About
The Case Western Reserve University Percussion Ensemble (MUEN 324) is an elective performance ensemble dedicated to the thoughtful performance of the vast and varied repertoire for the modern percussion ensemble. This group presents several concerts each year, both on campus and within the community. The ensemble is open to all students with an interest in percussion instruments. Students interested in performing with the Percussion Ensemble must also perform at least two semesters with either the CWRU Symphonic Winds or the Case/University Circle Symphony Orchestra to be eligible per required co-requisites.
Those students who have not already completed two semesters with either Symphonic Winds or Symphony Orchestra should plan to perform with one primary ensemble along with Percussion Ensemble during their first semester.
Director: Mr. Matthew Larson
Auditions
Auditions are held during the first week of the fall semester. For more information and to schedule an audition time please refer to the percussion-specific sections of the Symphonic Winds website.