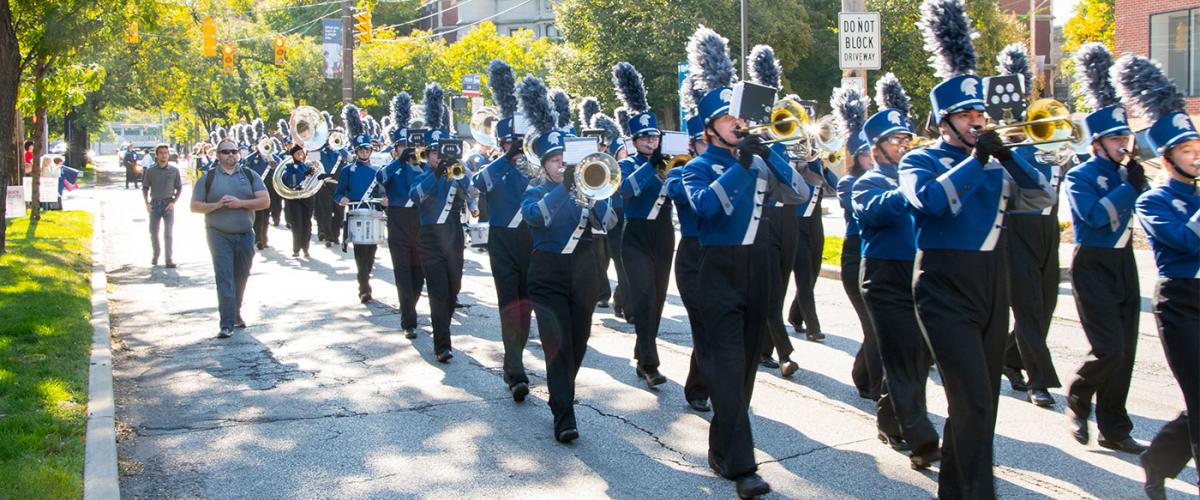 Rehearsal Day/Time
TuTh, 4:30-6:30 PM (Fall only)
Rehearsal Location
Spartan Rehearsal Hall/Practice Field
Participation Information
Audition required for drumline only.
About
The Spartan Marching Band is built on pride, spirit, musicianship, and dedication. By attending to these components, we can achieve unity in the mission to support our student athletes as well as represent our school in a way that is both impressive and inspiring.
Pride: admiration and reverence of Case Western Reserve University
Spirit: enthusiasm and energy to represent the home institution 
Musicianship: practice and discipline to achieve a high level of musical performance and skill
Dedication: a sense of responsibility for attendance, preparation, and each other
SMB meets for pre-season rehearsals prior to orientation week (late August) and throughout the fall semester every TuTh, 4:30-6:30 PM. A full schedule and course materials will be distributed at the first meeting. SMB performs at every home football game, Homecoming, and several other events around campus. 
Student Leadership (Fall 2020)

| | |
| --- | --- |
| Position | Name |
| Drum Major | Jacob Shaw |
| Flute/Clarinet | David Klopfenstein, Hannah Swanson |
| Saxophone | Jessica Dickson, Ethan Fuller |
| Trumpet | Maryan Veyon |
| Mello | Ian Wilson |
| Low Brass | Matthew Constable, Jared May |
| Drumline Captains | Rachel Beller, Evan Aronhalt |
| Color Guard Captains | Sofia Lemberg, Alyse Ostojic |
| Equipment Supervisors | Jared May, Zach Ziccardi |
| Historian (Photographer) | Maria Skalicki |
Auditions
Membership in the Spartan Marching Band is available to current CWRU students who play wind/brass or percussion instruments. Requires an audition for drumline only. Enrollment permissions will be granted following a placement audition or the first class meeting.
Registration
Director: Benjamin Helton
MUEN 384-100: Spartan Marching Band
TuTh 4:30-6:30 PM
0-1 units
All students must complete two full semesters of physical education courses at zero credit-hours. Students may choose to use marching band to fulfill this requirement. Read more about Physical Education and Athletics.
Pep Band | A student organization affiliated with the Spartan Marching Band devoted to playing music and spreading spirit at events around campus, including basketball and hockey games, and CWRU Live. All students are welcome! Questions: pepbandexec@case.edu
Follow Us
YouTube
CWRU Department of Music
CWRU Spartan Marching Band
Facebook
CWRU Department of Music
CWRU Bands
CWRU Pep Band
Instagram