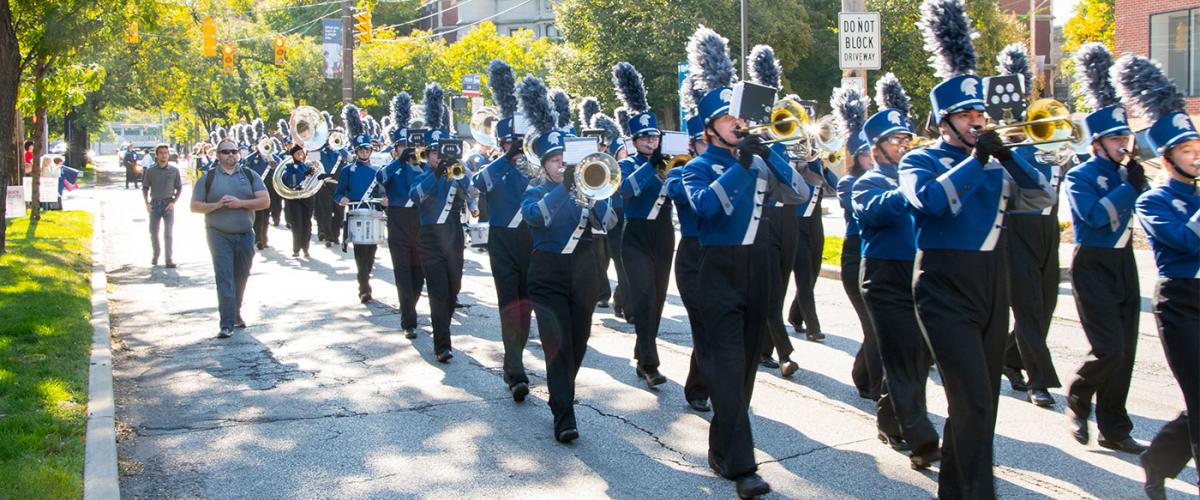 Director
Dr. Benjamin Helton
Rehearsal Day/Time
TuTh, 4:30-6:30 PM (Fall only)
Rehearsal Location
Practice Field/Spartan Rehearsal Hall
Participation Information
Audition required for drumline only. Review the provided Pre-Season Packet and Performance Schedule.
About
The Spartan Marching Band (SMB) is built on pride, spirit, musicianship, and dedication. By attending to these components, we can achieve unity in the mission to support our student athletes as well as represent our school in a way that is both impressive and inspiring.
Pride: admiration and reverence of Case Western Reserve University
Spirit: enthusiasm and energy to represent the home institution 
Musicianship: knowledge, skill, and artistic sensitivity in performing music
Dedication: responsibility for attendance, preparation, and supporting each other
SMB meets for pre-season rehearsals prior to orientation week (late August) and throughout the fall semester every TuTh, 4:30-6:30 PM. A full schedule and course materials will be distributed at the first meeting. SMB performs at every home football game, Homecoming, and special events around campus. 
Pep Band | A student organization affiliated with the Spartan Marching Band devoted to playing music and spreading spirit at events around campus, including basketball and hockey games, and CWRU Live. All students are welcome! Questions: pepbandexec@case.edu
Director: Dr. Benjamin Helton
Course Documents and Schedule
Please review these documents and mark your calendar to avoid conflicts:
Student Leadership
Spartan Marching Band Student Leadership (2023/24)

| | |
| --- | --- |
| Position | Name |
| Drum Major | Georgia Martinez |
| Upper WW Section Leader | Jack Auletta |
| Saxophone Section Leader | Austin Kuntz |
| Trumpet Section Leaders | Olivia Gutowski and Ian Suddarth |
| Mello Section Leader | Morgan Schultz |
| Low Brass Section Leaders | Lucy Biliunas and Nell Harris |
| Drumline Captains | Charlie Apy and TBD |
| Color Guard Captains | TBD |
| Equipment Supervisors | Ian Suddarth, Olivia Gutowski, Alex Summerville |
| Historian (Photographer) | Olivia Gutowski |
Auditions
There is no audition to join the Spartan Marching Band. Musicians and color guard members of all abilities are encouraged to join. Drumline members will have a "fitting" audition at the beginning of the preseason camp every year to best meet the needs of individual students as well as optimize the quality of the drumline as a whole. The drumline fitting will be based on rudiment fundamentals and sight-reading ability.
Contact Dr. Benjamin Helton for more information.
Registration
Students should log in to their SIS account to register in the appropriate MUEN course before the Drop/Add Period ends. The Drop/Add Period ends on the 2nd Friday of each semester.
MUEN 384: Spartan Marching Band (Fall semester only)
TuTh 4:30-6:30 PM
0-1 units
All students must complete two full semesters of physical education courses at zero credit-hours. Students may choose to use marching band to fulfill this requirement. Read more about Physical Education and Athletics.
---
Social
YouTube
CWRU Department of Music
CWRU Spartan Marching Band
Facebook
CWRU Department of Music
CWRU Bands
CWRU Pep Band
Instagram
CWRU Department of Music
CWRU Spartan Marching Band
CWRU Pep Band