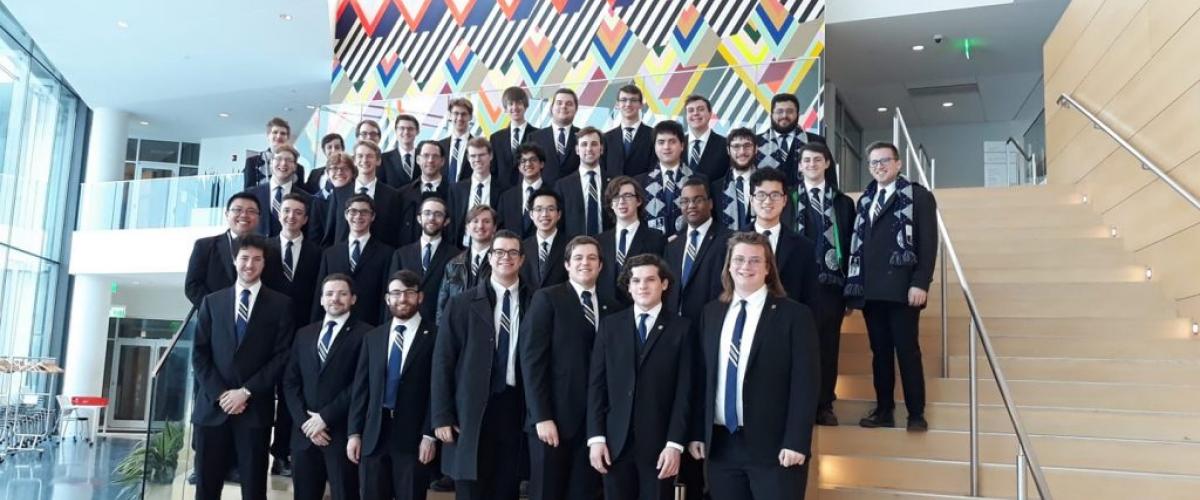 Director
Mr. Jason Falkofsky
Rehearsal Day/Time
MW, 9:00-10:30 PM
Rehearsal Location
Wade Rehearsal Hall
Participation Information
Special Note for Choral Ensembles during the 2020-2021 Academic Year
The Case Western University Department of Music is committed to providing all students, regardless of degree program, a high-quality and safe ensemble experience. Due to the additional requirements of physical distancing, coupled with the reduced capacity of our rehearsal spaces, all musical ensembles will be following a different format for the 2020-21 academic year. Vocal ensembles, including both Case Men's Glee Club and Case Concert Choir, will be meeting in a virtual (online) environment. While this is a change from pre-pandemic times, this new format allows for all interested singers to continue to build community through our shared love of singing together. If you have any questions, please contact Dr. Michael Peters, director of Case Men's Glee Club. (chorus@case.edu)
Rehearsals take place every week on Monday and Wednesday evenings, 9:00–10:30 p.m., via Zoom.
Click here to attend an open rehearsal. 
Open rehearsals are Wednesday, August 26; Monday, August 31; and Wednesday, September 2.
About the Choir – A Recent Addition to the Department of Music
Case Men's Glee Club joined the Department of Music in fall 2018 as our lower voice choral ensemble open to all students enrolled in the University who enjoy singing. CMGC has the distinction of being the oldest continually operating student organization on our campus, dating back to 1897! Long-standing traditions of fellowship and excellence in singing continue this fall as CMGC becomes an official Department ensemble.
The ensemble performs a wide variety of accompanied and a cappella repertoire written specifically for tenor, baritone, and bass voices. For additional information about gender-inclusive lower voices eligible for this ensemble, contact Dr. Matthew Garrett, faculty advisor for CMGC (mgarrett@case.edu).
The ability to read music is not required for participation and there is no formal audition. The conductor will lead members in exercises to ensure everyone is singing the appropriate voice part. Goals of the Case Men's Glee Club include developing strong musicianship skills, building camaraderie with fellow singers, and sharing music with the CWRU and University Circle communities.
Student members may choose to participate in CMGC for 0 credit (MUEN 380A) or for 1 credit (MUEN 380B). Contact Dr. Michael Peters, director of CMGC, for additional information (chorus@case.edu). 
Remember: Registration options for Case Men's Glee Club are either MUEN 380a for zero credit or MUEN 380b for one credit.