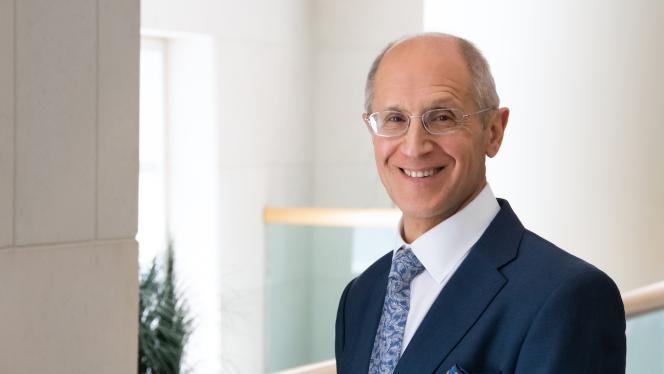 Contact the Dean's Office
For calendar appointment requests please contact Tina Balamenti, tmb36@case.edu or 216.368.2825.
For all other requests please contact Susan Reichert, sxr406@case.edu or  216.368.2002.
Welcome to the School of Medicine
I am honored to serve as dean of the Case Western Reserve School of Medicine. I accepted this responsibility in part because I deeply believe in the School of Medicine and its ultimate mission to move its discoveries towards patient and population benefit and to alleviate serious disease.
Together, our faculty, staff and students in tandem with our exceptional affiliate academic medical centers and facilities comprise a remarkable medical education and research environment. As a destination for academics and medical care, Cleveland is unparalleled and uniquely poised to promote collaborative efforts that are internationally recognized for excellence, innovation, insight and quality. All of our physician educators, researchers and physician scientists located across Cleveland—at the School of Medicine, Cleveland Clinic, Louis Stokes Cleveland VA Medical Center, MetroHealth System and University Hospitals—are faculty of the school. This offers students a unique learning environment, our physicians the ability to seek the best possible advice for patient care, and our scholars and researchers a remarkable collaborative platform to discover fundamental processes of disease, and implement new treatments and prevention strategies. Our basic science, clinical research, health outcomes research, and population and quantitative sciences teams permeate our school and hospitals, raising the bar of excellence at every turn.   
Our Health Education Campus (HEC), a nearly 610,000-square-foot project with Cleveland Clinic which opened in 2019, is the new home for the medical school's university and Cleveland Clinic Lerner College of Medicine MD programs, as well as the university's dental and nursing schools. The foundation of our efforts in promoting interprofessional education across these schools and the Jack, Joseph and Morton Mandel School of Applied Social Sciences. The HEC's signature space is Samson Pavilion, a 477,000-square-foot atrium expressly designed to encourage extensive interaction among the schools' faculty, students and staff. Much of our preclinical teaching takes place at HEC with faculty participation from all institutions. A visit is a must!
Keeping students, faculty and staff safe during COVID-19, we are adhering to safe practices such as social distancing, mask-wearing and barriers between workspaces. Our educators, research scientists, clinical investigators, and research and education trainees have now immersed themselves on campus, pursuing pandemic-adapted work schedules, maintaining a remarkable learning environment that is safe, respectful and collegial. Productivity. We have continued to discover, commercialize, improve health care in our hospitals and our region, and educate our trainees who will launch remarkable careers. The vibrancy of our new class of close to 200 MD students, 250 PhD students, and more than 1,000 master's, anesthesia and physician assistant students validate our strong trajectory as a medical education institution poised for the future.
We will continue to build on our long and exceptional history of medical and graduate education, discovery and scholarship across the university while focusing on high impact medical research. And through our affiliated hospital partners and full-time faculty members at those sites, we have established an exceptional and coordinated powerhouse of education, career development, and translational research to better both patients and our community.
To learn more about our plans for the future, I invite you to review our Strategic Plan for 2021-2026. The school's leadership team built the draft, which was then shared with basic science chairs, the clinical chairs in each department and our hospital affiliate partners before we asked our school's faculty and staff to share feedback as the plan was finalized. 
I am confident each of you—whether faculty, investigator, educator, staff, trainee or incoming student—will extend your unique contributions so that together, we will continue to create and deliver medical breakthroughs and train the next generation of physicians and scientists, improving healthcare and saving lives here and throughout the world. 
I look forward to pursuing our mission together.
Stan
Stan Gerson, MD
Dean, School of Medicine and Senior Vice President for Medical Affairs
Director, Case Comprehensive Cancer Center (acting)
Director, National Center for Regenerative Medicine
Distinguished University Professor, CWRU
Asa & Patricia Shiverick – Jane B. Shiverick (Tripp) Professor Hematological Oncology 
Professor of Medicine, Oncology