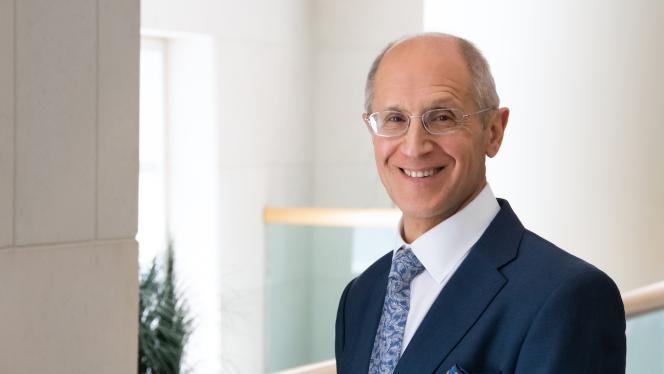 Contact the Dean's Office
For calendar appointment requests please contact Tina Balamenti, tmb36@case.edu or 216.368.2825.
For all other requests please contact Susan Reichert, sxr406@case.edu or  216.368.2002.
Welcome to the School of Medicine
I am honored to serve as dean of the Case Western Reserve School of Medicine. I accepted this responsibility in part because I deeply believe in the School of Medicine and its ultimate mission to improve global health by linking research to populations in a superb educational environment. We do this in an incredible environment. Case Western Reserve University School of Medicine is the intellectual glue for health education and research faculty across Cleveland's academic medical centers—Cleveland Clinic, Louis Stokes Cleveland VA Medical Center, MetroHealth System and University Hospitals—coordinating a network of transdisciplinary efforts that touches a myriad of diseases and empowers diversity and inclusive excellence.
Together, our 3,400 full-time faculty across these five campuses and an additional 5,000 part-time educating faculty across northern Ohio offer an exceptional resource for world-class patient care, paradigm-shifting research discovery, policy-impacting population-based interventions and early access to innovative therapies for our patients. All of this is coupled with an urgency and support for educating healthcare professionals to become leaders across all medical disciplines. Our staff at all levels support this mission and are greatly appreciated for their unique expertise, dedication and commitment. As a destination for academics and medical care, Cleveland is unparalleled and uniquely poised to promote collaborative efforts that are internationally recognized for excellence, innovation, insight and quality. 
Our physician educators, researchers and physician-scientists offer students a unique learning environment, our physicians provide the ability to seek the best possible advice for patient care, and our scholars and researchers create a remarkable collaborative platform to discover fundamental processes of disease and implement new treatments and prevention strategies. Our basic science, clinical research, health outcomes research, and population and quantitative sciences teams permeate our school and hospitals, raising the bar of excellence at every turn.  
Our Health Education Campus (HEC), a nearly 610,000-square-foot project with Cleveland Clinic, which opened in 2019, is the new home for the MD degree-granting University Program and Cleveland Clinic Lerner College of Medicine College Program, both within the School of Medicine, as well as the university's dental and nursing schools. A foundation of our education efforts is promoting interprofessional education across these schools and the Jack, Joseph and Morton Mandel School of Applied Social Sciences. Much of our preclinical teaching takes place at HEC with faculty participation from all institutions. A visit is a must!
As an academic research institution, our efforts focus on cancer, immunology, and the immune basis of disease and treatments, global infections, cardiovascular diseases, neurodegeneration, and psychiatric disorders, genomic origins of disease end genomic therapeutics, therapeutic discovery, community health that diminishes the disparities in healthcare, the adverse impacts of the social determinants of health, quantitative biosciences and artificial intelligence sciences.
Our student education programs are truly robust. This past May, we matriculate 217 MD, 450 Master's, 43 Physician Assistant (PA), 82 Master of Science in Anesthesia (MSA) and 85 PhD students. Our Medical Scientist Training Program (MSTP)—an MD/PhD combined degree program is the oldest in the country and is continually funded by a T32. We pride ourselves on education innovation. Learn about our Western Reserve 2 curriculum for the MD degrees, HoloAnatomy, and numerous master's programs from population science to a Master of Public Health (MPH), to regenerative medicine and entrepreneurship. We support stepping stone education for undergraduates, post baccalaureates ready for an MD or PhD program and PA and MSA programs. We also host three undergraduate majors – neurosciences, nutrition and biochemistry in collaboration with the College of Arts and Sciences. 
We support the health and prosperity of Cleveland, a community that continues to harbor too much poverty and illness due to disparities in access and wellness. We partner with the City of Cleveland as a focus for the implementation of health improvements based on our research assessments through community engagement education and interventions.
Our entrepreneurship extends our impact through patents of discoveries and commercialization strategies, resulting in an average of more than 80 patent filings a year. Over the past five years, the School of Medicine faculty has concluded 25 licenses, 15 startups and sales to biotechnology companies.
Globally we extend our reach through longstanding research programs in Uganda, Israel, China, Taiwan, South Korea, European Union countries and Latin America.
To learn more about our plans for the future, I invite you to review our Strategic Plan for 2021-2026. The school's leadership team built the draft, which was then shared with basic science chairs, the clinical chairs in each department and our hospital affiliate partners before we asked our school's faculty and staff to share feedback as the plan was finalized. 
I am confident each of you—whether faculty, investigator, educator, staff, trainee or incoming student—will extend your unique contributions so that together, we will continue to create and deliver medical breakthroughs and train the next generation of physicians and scientists, improving healthcare and saving lives here and throughout the world. 
I look forward to pursuing our mission together.
Stan
Stan Gerson, MD
Dean, School of Medicine and Senior Vice President for Medical Affairs
Director, National Center for Regenerative Medicine
Distinguished University Professor, CWRU
Asa & Patricia Shiverick – Jane B. Shiverick (Tripp) Professor Hematological Oncology 
Professor of Medicine, Oncology