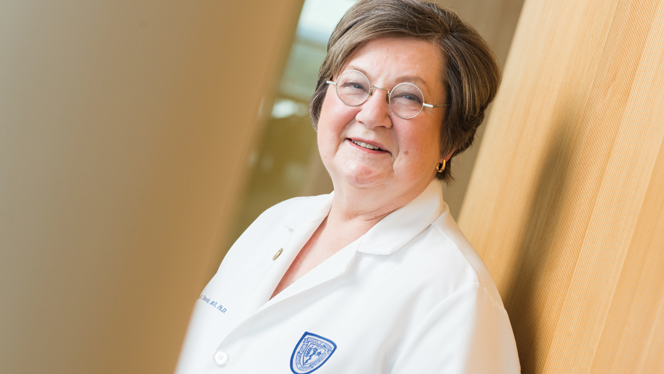 Dean Pamela B. Davis, MD, PhD
Contact the Dean's Office
Please call or email Susan Reichert
Executive Assistant
216.368.2002
sxr406@case.edu
Welcome to the School of Medicine
In medicine, we talk a lot about teams: specialists who come together to tackle a complex case, researchers whose diverse expertise leads to the latest groundbreaking discovery, and students who pull together to prepare for boards and big research projects.
Whether you are interested in front-line care, basic science research – or both – the School of Medicine is a terrific place to begin or continue your journey into academic medicine. In fact, a January 2015 study published in Academic Medicine confirmed that our graduates are among the best of the best. The authors ranked medical schools using applicable, real-world metrics based on the achievements of recent graduates after they leave medical school. We were thrilled to place in the top 15 schools nationally! We always knew that our graduates were special, but it's fantastic to have solid numbers confirming it for us (we're big on data around here).
And we value our friendships just as much. We maintain official affiliations with the other major Northeast Ohio hospitals: Cleveland Clinic, University Hospitals, Louis Stokes VA Medical Center, and The MetroHealth System. Having so many outstanding partnerships here in Cleveland gives our students unique access to a variety of clinical experiences and gives our faculty a deep well of diverse collaborators with whom to work.
And if the past and present at Case Western Reserve are bright, then the future is electric!
I am very proud to share that we have developed a relationship with Microsoft, in collaboration with the Cleveland Clinic, which will make Case Western Reserve the first higher education partner for Microsoft's HoloLens technologies. Faculty from across the university are leading the development of new education applications, beginning with a full digital anatomy curriculum. In particular, we are implementing this technology in our new state-of-the-art Health Education Campus. Our friends from CWRU's Frances Payne Bolton School of Nursing and the School of Dental Medicine have joined us in this new space, where the Jack, Joseph and Morton Mandel School of Applied Social Sciences collaborate with us as well. Together we are creating a unified front for all of Case Western Reserve's health education and opening necessary channels in positive inter-professional education.
This is the true nature of Case Western Reserve University School of Medicine: a place of extraordinary vision, learning, and cooperation where we work for cures from bench to bedside. Every day, students and faculty think beyond the possible, and, now, a cutting edge campus is revolutionizing technology.
We're always looking out for the next wave of scholars, researchers, and innovators, so if this all excites you as much as it does us, I hope you'll join us to share your passions and make a difference in patients' lives at CWRU School of Medicine and beyond.
--Dean Pamela B. Davis, MD, PhD