SPOTLIGHT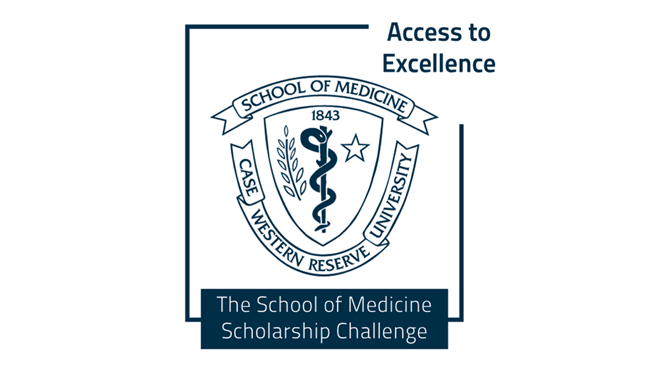 Interested in helping our students pursue their dreams? Consider making a gift in support of our Access to Excellence Scholarship Campaign.
To learn more, please contact Lisa Tersigni at 216-368-5426 or lisa.tersigni@case.edu.
The School of Medicine is grateful for the generous philanthropic support of our alumni and friends. 
There are many ways to give, and our development staff works closely with each donor to ensure the gift process is as efficient as possible and every gift is directed to the specific goals or funds that are important to you! For a complete list of development staff, please visit our Contact Us page.
For information on Reunion or class giving, please visit our Reunion Giving page.
Day of Giving 2023: A Message from Dean Gerson
How Can I Give?
Check
Please make your check payable to CWRU and include a brief note instructing us how to designate your gift. Please mail to:
Case Western Reserve University
Advancement Services
10900 Euclid Avenue
Cleveland, Ohio 44106-7035 (please be sure to include these last four digits) 
To make a memorial or honorary gift by cash or check, please include a note that indicates the name of the person you are memorializing or honoring and the family contact name and address (for memorials) or the individual's name and address (for honorary gifts). We will be sure to notify the family/individual of your thoughtfulness.
Electronic Fund Transfers (EZ Giving)
There are many advantages to electronic bank transfers. You never have to worry about a check being lost in the mail and most importantly, it's safe and free.
You may have any amount (minimum $10) automatically deducted from your checking account or debited to a credit card monthly. Just like electronic banking, your generous contribution is easily and automatically transferred. We call it E-Z Giving!
Just complete the contribution form and send it with a first payment check (so we can list the correct routing information.)
Matching Gifts
Please visit Case Western Reserve's Matching Gifts Program for more information.
Online via Credit Card
Make a Gift on Case Western Reserve School of Medicine's secure Giving website.
Payroll Deductions
If you are an employee of Case Western Reserve University, it is easy to make a gift. You may have any amount ($2 minimum) automatically deducted from your paycheck monthly. Just print out and then submit the Payroll Deduction Form to the address provided.
Personal Property and Real Estate Gifts
The School of Medicine gladly accepts gifts of tangible personal property or real estate. Gifts of real estate can include principal or vacation homes, farms, commercial property or land. Property can include works of art, letters, equipment and other tangible goods. The Office of Gift Planning would be happy to work with you to determine how such gifts can fit into your estate planning.
Planned Giving
Planned giving is a method of including charitable giving in your total financial plan. There are many effective vehicles—a bequest through a will or retirement account, a charitable gift annuity or a charitable trust, just to name a few—that alumni and friends of Case Western Reserve University use in support of the university. Moreover, many of these vehicles also benefit your personal goals by enhancing your future financial security.
Saving for retirement
Avoiding capital gains tax
Providing for a grandchild's education
For more information, please visit Case Western Reserve's Planned Giving Website.
Stock and Security Gifts
Outright Gifts of Stocks and/or Bonds
Donors need to contact their broker stating they want to gift (XXX) shares of (XXX) stock(s) to Case Western Reserve University (School of Medicine) for this/these purpose(s).
Donors' brokers should call or email the University Treasurer's Office at 216.368.3253 or 1.800.315.3863 for DTC transfer instructions.
The Treasurer's Office will fax the broker the instructions.
Mutual Funds
The Treasurer's Office has put together information for some of the largest mutual fund families to help donors who intend to gift non-retirement mutual fund shares to the university. 
Please call the Treasurer's Office at 216.368.3253 or 1.800.315.3863 with any specific questions regarding the above information.