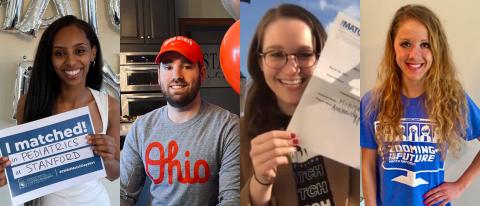 Congratulations to the School of Medicine Class of 2021 who were matched to their residency hospitals on Friday, March 19! These fourth-year students achieved a milestone on their journey to become physicians on that day—learning where they will be spending their next years as a resident. In compliance with pandemic safety protocols for the second year in a row, some of our students and faculty met at the Health Education Campus, and others joined virtually to celebrate this next step on the path to becoming physicians.
During "normal" times, being a medical school student is arduous at best. However, like last year's Match Day students, this year's graduating class has experienced a truly tumultuous fourth year. Transitioning from traditional learning in classrooms to virtual instruction from home and having clerkships and many other mainstays interrupted, these students pivoted quickly, adjusting to an environment where various aspects of their education were constantly changing. 
As in years past, our 203 students who have matched were chosen by top programs throughout the United States, matching to residencies at top-ranked hospitals such as Johns Hopkins, Cleveland Clinic, Massachusetts General, Mayo Clinic, New York-Presbyterian and UCLA Medical Center.  
Top residency specialties this year included internal medicine, pediatrics, emergency medicine, general surgery, orthopedic surgery and obstetrics-gynecology. 34 percent of the class will go into primary care specialties, 22 percent will continue serving the Cleveland community through residencies at University Hospitals, Cleveland Clinic and MetroHealth Medical Center, and 25 percent will remain in Ohio.
This year's match results are a testament to the enduring strength and incredible flexibility of our outstanding students, our exceptional faculty and our leading-edge curriculum. Again, congratulations to these 2021 graduates as they move into residency and beyond.