Jus Cogens Norms, Derogation and Limitation of Human Rights: The Case of Kenya and South Africa
Monday, March 2nd, 2020 4:30 PM - 5:30 PM
Event Description
The Constitutionalization of Human rights norms reached their peak in South Africa in 1996 and in Kenya 2010 when both States promoted their "transformative" Constitutions. But in both States, the illusions of the fragile hegemony of human rights has been seen especially in the clash between principle (flowery Constitutional language) and the blatant violations of human rights.
This is especially true for peoples' living below the abyssal line (the line separating the poor and the rich; the citizen and the subject; ruling class and the ruled). South Africa, with its painful long colonial and bloody racial history, has struggled to ensure a dignified leaving for especially its majority-black community while Kenya, with its colonial and successive illiberal governments, has struggled to ensure the real promise of hegemonic and western-styled human rights protections.
This lecture will assess the veracity of this failure using firstly the valorized concept of jus cogens (the principles which form the norms of international law that cannot be set aside) that is not explicitly present in any of the two countries Constitutions. Secondly, it will use the concepts of derogation and limitations of human rights to show how social-economic deprivations, exclusions, and extreme poverty have been perpetuated in these two States.
To achieve the aims of the protection of human dignity, Mr. Mbori argues that the human rights focus in both countries have to firstly move away from western-styled hegemonic human rights conceptions, and focus on counterhegemonic, anti-crony capitalism, human rights from below conceptions -  empowering local voices and communities to champion more vigorously for cognitive and social justice in cultural context that respects and promotes local conceptions of human dignity. 
Speaker Information
Mr. Mbori is currently an SJD Candidate at Loyola University Chicago, School of Law. He also holds a Bachelor of Laws degree from the University of Nairobi, Kenya and an LLM degree in International Law and Alternative Dispute Resolution from Loyola University Chicago School of Law. Mr. Mbori is an Advocate of the High Court of Kenya. He is currently a doctoral fellow at Strathmore Law School in Nairobi, Kenya where he teaches Human Rights Law, International Trade Law, and Alternative Dispute Resolution (ADR). He is an accredited mediator with Facilita8 and Strathmore Dispute Resolution Centre (SDRC). His research interests are currently on regional courts in Africa, counter-hegemonic human rights law, and ethnicity questions on governance in Kenya specifically and Africa generally.
Event Location
CWRU Law Moot Courtroom (A59)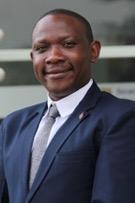 Harrison Mbori, Lecturer, Strathmore University Law School, Nairobi, Kenya; SJD Candidate, Loyola University Chicago, School of Law