Marijuana Federalism: Uncle Sam and Mary Jane
Tuesday, April 21st, 2020 4:30 PM - 5:30 PM
the event is free and offers 1 hour of online CLE credit. No in person CLE is available.
Webcast Archive Content
Event Description
Note: the event is free and offers 1 hour of online CLE credit. No in-person CLE is available. The webinar will allow you to connect at 4 p.m. The panel discussion will begin at 4:30 p.m.
What does it mean that marijuana is legal for some purposes under state law, but remains illegal under federal law? If federal supremacy does not mean states are preempted from decriminalizing marijuana, what limits does federal law place on businesses, lawyers, and individuals? What legal problems are created by conflicting legal regimes governing cannabis and related businesses? How can banks provide services to state-licensed marijuana businesses if selling and distribution of marijuana remains illegal under federal law? How can lawyers serve clients in this emerging industry without running afoul of state rules of professional conduct? What possible solutions are there?
These issues, touching legal, policy, and ethical concerns, are discussed in a new book edited by Professor Jonathan H. Adler, Marijuana Federalism: Uncle Sam and Mary Jane (Brookings 2020), and will be explored during this free webinar.
 Speakers will include:
Jonathan H. Adler, Joha Verheij Memorial Professor of Law and Director of the Coleman P. Burke Center for Environmental Law, Case Western Reserve University School of Law
Cassandra Burke Robertson, John Deaver Drinko-BakerHostetler Professor of Law, and Director, Center for Professional Ethics, Case Western Reserve University School of Law
Julie A. Hill, Alton C. and Cecile Cunningham Craig Professor of Law, University of Alabama School of Law
 Q&A and discussion will follow the speakers' presentations.
Speaker Information
Jonathan H. Adler is the inaugural Johan Verheij Memorial Professor of Law and Director of the Coleman P. Burke Center for Environmental Law at the Case Western Reserve University School of Law, where he teaches courses in environmental, administrative and constitutional law.
Professor Adler is the author or editor of seven books, including Business and the Roberts Court (Oxford University Press, 2016) and Rebuilding the Ark: New Perspectives on Endangered Species Act Reform (AEI Press, 2011), and over a dozen book chapters. His articles have appeared in publications ranging from the Harvard Environmental Law Review and Yale Journal on Regulation to The Wall Street Journal and USA Today. He has testified before Congress a dozen times, and his work has been cited in the U.S. Supreme Court. A 2016 study identified Professor Adler as the most cited legal academic in administrative and environmental law under age 50.
Professor Adler is a contributing editor to National Review Online and a regular contributor to the popular legal blog, "The Volokh Conspiracy." A regular commentator on constitutional and regulatory issues, he has appeared on numerous radio and television programs, ranging from the PBS "Newshour with Jim Lehrer" and NPR's "Talk of the Nation" to the Fox News Channel and "Entertainment Tonight."
Professor Adler is a senior fellow at the Property & Environment Research Center in Bozeman, Montana. He also serves on the NFIB Small Business Legal Center Advisory Board, the academic advisory board of the Cato Supreme Court Review the Board of Directors of the Foundation for Research on Economics and the Environment, and the Environmental Law Institute's Environmental Law Reporter and ELI Press Advisory Board. In 2018, Professor Adler was elected to membership of the American Law Institute.
In 2004, Adler received the Paul M. Bator Award, given annually by the Federalist Society for Law and Policy Studies to an academic under 40 for excellence in teaching, scholarship, and commitment to students. In 2007, the Case Western Reserve University Law Alumni Association awarded Adler their annual "Distinguished Teacher Award."
Prior to joining the faculty at Case Western Reserve, Adler clerked for the Honorable David B. Sentelle on the U.S. Court of Appeals for the District of Columbia Circuit. From 1991 to 2000, Adler worked at the Competitive Enterprise Institute, a free market research and advocacy group in Washington, D.C., where he directed CEI's environmental studies program. He holds a BA magna cum laude from Yale University and a JD summa cum laude from the George Mason University School of Law.
Cassandra Burke Robertson regularly teaches Civil Procedure, Professional Responsibility and Secured Transactions, and has also taught Transnational Litigation and Remedies. She directs the law school's Center for Professional Ethics, whose mission is to explore moral choices across professional lines in a variety of disciplines. Her scholarship focuses on legal ethics and litigation procedure within a globalizing practice of law. She has co-authored a popular casebook in the field of professional responsibility and published articles in the Columbia Law Review, Emory Law Journal and Boston University Law Review, among others.
Within the community, Robertson serves on the board of Maximum Accessible Housing of Ohio, a nonprofit organization that works to provide and promote accessible housing solutions for people with physical mobility disabilities. In addition, she serves as one of Ohio's representatives to the Uniform Law Commission (also known as the National Conference of Commissioners on Uniform State Laws) and chairs the Appellate Litigation subcommittee of the American Bar Association's Civil Rights Litigation Committee.
Prior to joining the faculty in 2007, Robertson clerked for the Texas Supreme Court and served as Assistant Solicitor General in the Office of the Texas Attorney General. Robertson received a law degree from the University of Texas at Austin, where she also obtained joint master's degrees in Middle Eastern Studies and Public Affairs.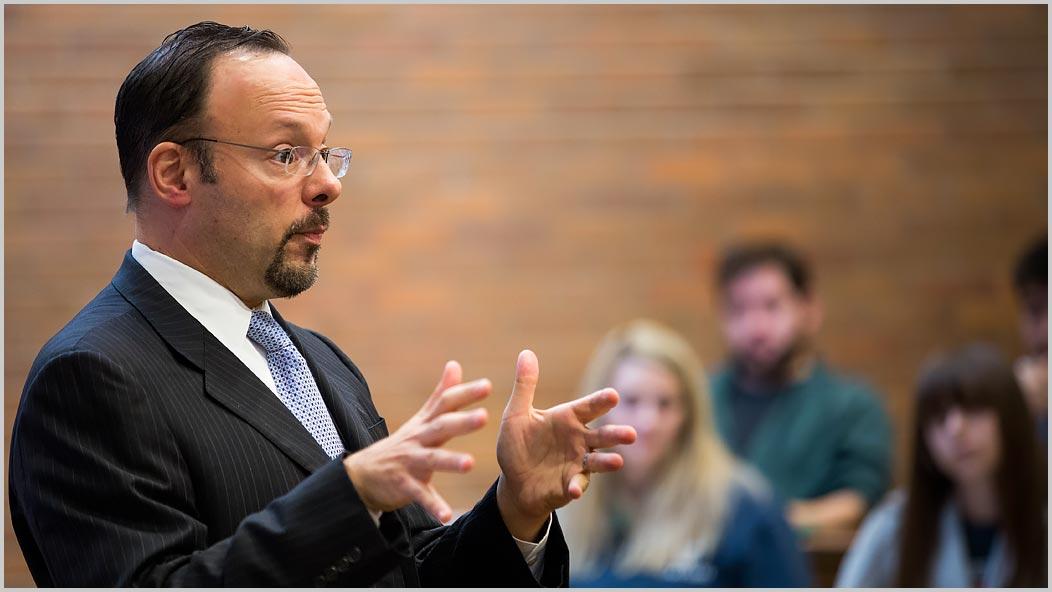 Jonathan H. Adler, Johan Verheij Memorial Professor of Law; Director of the Coleman P. Burke Center for Environmental Law at the Case Western Reserve University School of Law
Cassandra Burke Robertson, John Deaver Drinko - BakerHostetler Professor of Law; Director, Center for Professional Ethics, School of Law
Julie A. Hill, Alton C. and Cecile Cunningham Craig Professor of Law, University of Alabama School of Law