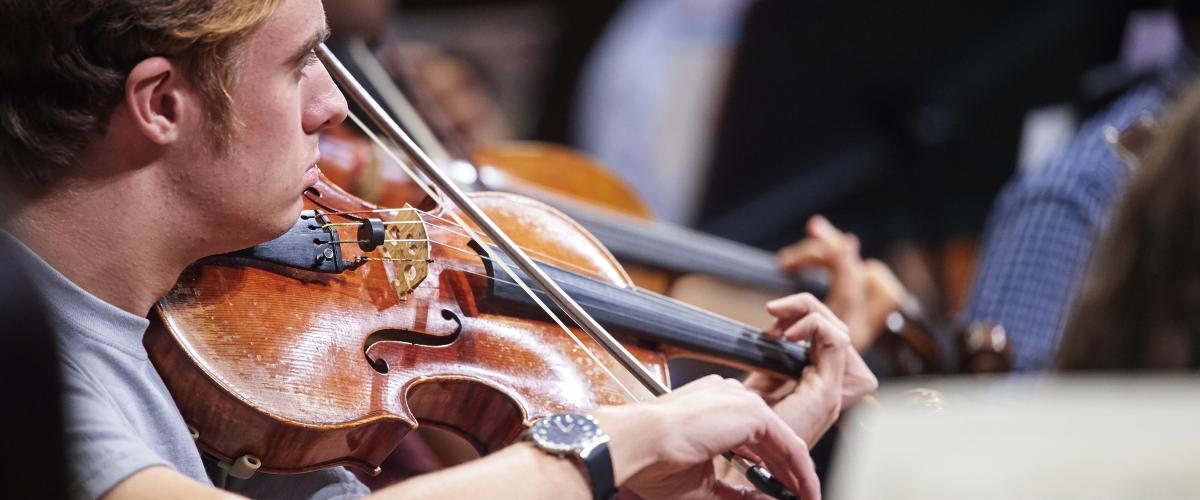 Rehearsal Day/Time
TuTh, 7:00-8:30 PM
Rehearsal Location
Spartan Rehearsal Hall
Participation Information
About
Case Camerata Chamber Orchestra is open to all CWRU students, faculty, and community members by audition who play string instruments and desire to perform in a flexible but very high-quality string instrumental music setting. The group rehearses twice per week for a total of 90 minutes and performs 2-4 concerts per academic year.
The repertoire performed in this ensemble is drawn from a variety of smaller chamber genres that include pieces from the baroque, classical, romantic, and contemporary periods. Some of the pieces are conducted and others are rehearsed collaboratively by the group with coaching from the director. The group collectively decides the program and many pieces use soloists from within the group. Additionally, there are opportunities for this group to collaborate with other ensembles in the Department of Music including University Chorale, Case/University Circle Symphony Orchestra, and others.
Instructional Format (2020-21)
For the 2020-21 academic year all instrumental ensembles will be utilizing a "small" ensemble approach to allow in-person rehearsals. To accomplish this we will follow a specialized schedule so that each group can safely meet in one of our large rehearsal rooms. Following rehearsals, all ensemble members and personnel must vacate the room for 30 minutes to allow time for air circulation. Each group will have two scheduled 60-minute rehearsals per week with a director/coach. The Sp21 semester schedule will be generated in January based on the schedules of enrolled students.
 Spring 2021 semester rehearsals will begin on Tuesday, February 2
Auditions
New Member Auditions: Due by January 15, 2021 (virtual submission). Only for those individuals who did not participate during Fall 2020. Please submit auditions HERE. Auditions requirement below.
Returning Members from Fall 2020 must register via SIS by January 15, 2021 and complete an information form HERE.
Small ensemble placements and schedule will be posted on January 25, 2021.
All orchestral ensembles require an audition once per year. Students may audition in the fall even if they do not plan to enroll until the spring -or- they may choose to wait and audition in the spring.
We encourage all students on-campus take an in-person audition. However, students can opt for a remote audition. 
Students planning to enroll in Symphony Orchestra as a "fully remote" offering will be required to take a remote audition.
Audition requirements  are listed below (includes materials and excerpts).
The audition requirements are the same for both in-person and remote auditions.
Audition Requirements
Scales: 2-3 octave Major and Harmonic Minor Scales
Prepared piece: etude or solo piece that shows your level of performance (not to exceed 3 minutes) 
String players only: orchestral excerpts provided below
Audition materials for string instruments:
Registration
Director: David Ellis

MUEN 386-400: Case Camerata Chamber Orchestra
TuTh 7:00-8:30 PM (Spartan Rehearsal Hall)
Blended: This section is for students meeting in-person (studying on campus) and during the regularly scheduled meeting pattern; contact hours may be reduced and supplemented with remote instruction.
*Fully remote students should register for Symphony Orchestra. 
---
FAQs
When are auditions?
Auditions take place during the first week of the fall semester. Contact the director for spring auditions. 
When is the first rehearsal?
Because Auditions take place during the first week of classes and the faculty will need to staff small groups and choose repertoire, the actual first rehearsals will take place beginning the 3rd week of class (this is a change from previous years due to COVID-19). 
How do I register for the course?
Request course permission in the Student Information System (SIS).
Course permission will be granted after an audition is completed during the first week of class.
Once you are "granted permission" you need to go back into SIS and complete your registration. Students must officially register to participate in the ensemble. 
What is the difference between registering for 0.0, 0.5, or 1.00 credit units?
Most academic ensembles (MUEN) are offered at variable credit to allow students the choice based on total credit load and personal preference. Music majors should check their academic requirements before selecting the credit amount. 
Are instruments available?
Specialty and large instruments are available on a limited basis for use by those enrolled in our academic ensembles.
Where are practice rooms?
Practice rooms are available in the Denison Hall Complex (@Wade Commons) during posted open hours on a first-come, first-served basis. During Orientation week Denison Hall operates with extended hours from 8 AM - 10 PM.  Once the Drop/Add period is over the building will be open from 8 AM - 5 PM and you will need to use your Student ID to get into the building.
Is instrument storage available?
Lockers are available for music majors, minors, and non-majors who participate in an academic ensemble. Please note, due to the busy start of term, it may take us a bit to respond to all requests and we ask for your patience.

Facilities Policies and Locker Information
When does this ensemble perform?
The performance schedule and syllabus will be distributed during auditions and the first week of class. For the 2020-21 academic year we will be broadcasting our performances that will include both our in-person and remote chamber groups.