At Larry Sears and Sally Zlotnick Sears think[box], we help dreamers do.
Housed in an iconic seven-story, 50,000-square-foot facility at Case Western Reserve University, Sears think[box] is a world-class innovation center, makerspace and entrepreneurship ecosystem that welcomes thousands of visitors each year—and is open to everyone at no cost. 
Backed by the expertise of an R1 research institution, think[box] opened in its current location in 2015 to bring together resources for venture creation and entrepreneurship under one roof. Whether you're looking for prototyping and fabrication equipment, space to brainstorm, legal and business support to commercialize intellectual property, or guidance to create market-ready products with real-world impact, our team at think[box] can help.
Here, students have launched startups that change the trajectory of their careers; researchers have forged new partnerships and proven ideas viable; industry partners have discovered space to find new inspiration, and community members have turned part-time tinkering into full-time doing. It all goes to show, Sears think[box] is the ideal place to turn your idea into a reality.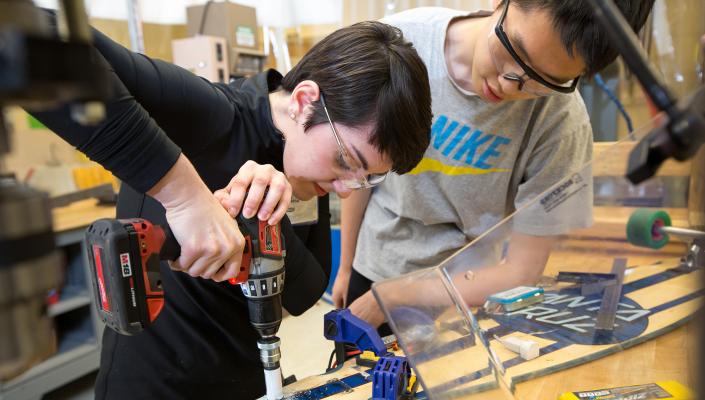 Mission
At Sears think[box], we seek to: 
Support people in learning, refining, and utilizing skills to achieve their desired goals in innovation, entrepreneurship, and making;
Cultivate and welcome a diverse community; and 
Create a culture which encourages persistence and values resilience.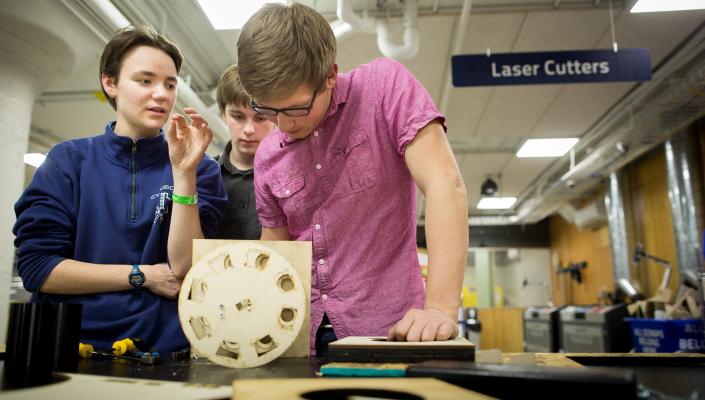 The Seven Stories of Sears think[box]
FLOOR 7

Incubator

Floor 7 is the final stop on the pathway to entrepreneurial success. This is a space that nurtures and grows promising startups into thriving companies with access to office space, faculty expertise, mentorship and continued direct access to all the resources of Sears think[box].

FLOOR 6

Entrepreneurship

On Floor 6, the Cloud L. Cray Jr. & Sally Hunter Cray Center for Innovation and Entrepreneurship houses resources for turning an invention into a market-ready product: the Tech Transfer Office, Intellectual Property Venture Clinic, Burton D. Morgan Suite for Entrepreneurship and CWRU LaunchNET for business planning and mentorship.

FLOOR 5

Project Space

Ideas and projects need space to grow. The Eric T. Nord Project Space Floor provides a home for the university's dozens of formal student groups and design competition teams—as well as individual students—to work on large-scale, ongoing projects and collaborate across teams.

FLOOR 4

Fabrication

The Lubrizol Foundation and Kent H. Smith and Kelvin Smith Fabrication Floor is a high-tech workshop with metalworking and woodworking equipment including a waterjet cutter, welding equipment, CNC mills and lathes, designed to minimize machining time and maximize the time you spend testing and iterating your design.

FLOOR 3

Prototyping

On Floor 3, you can iterate and redesign quickly, professionally and with ease. The Prentke Romich Floor features top-of-the-line prototyping tools—3D printers and scanners, laser cutters, electronics, sewing, design tools and more—open and accessible to makers of all kinds. 

FLOOR 2

Collaboration

The Wyant Collaboration Floor is an open, welcoming space that invites people to linger, tinker and talk— sharing their ideas across departments, schools and even across Northeast Ohio. Floor 2 includes whiteboards, multimedia meeting areas, presentation space, lounge furniture, hotel offices and more. 

FLOOR 1

Community

Floor 1 is a gathering place for brainstormers, builders and budding entrepreneurs from across campus and the surrounding region.